My PowerViews guest today is James Obermayer. Jim is the founder of the Sales Lead Management Association. SLMA is the sponsor of the yearly Sales Lead Management week and initiatives to identify both the Top 50 Most Influential People in Sales Lead Management and 20 Women to Watch in Sales Lead Management.
Jim's career has been equally divided between marketing and sales. He has written over 95 articles around sales and marketing management and is the author of four books. He is a speaker on sales lead management, sales enablement, and marketing ROI.
Below, you can read highlights from our discussion or use the links to start the video from different parts of the conversation.

2012: Companies Lifting Off with Higher Budgets for Marketing & Lead Generation
Click to start video at this point—Asked about marketing and sales surprises in 2012—what might have been expected to happen but didn't, and what has happened that might not have been expected­—Jim notes…
There has been a significant increase in marketing and sales alignment becoming subject matter for conferences.

There have been more comments from marketing automation vendors that cold calling and other traditional ways of generating sales leads are going away.

Based on SLMA Radio interviews with 120 marketing and sales leaders and other conversations, a big change is the way companies are spending more dollars on marketing and lead generation. Jim is seeing a lot of companies lifting off as a result.

Increased budgets of this nature are including outbound telemarketing and lead generation companies.

Budgets seem to be there for marketing and sales initiatives that can measure the return on investment.
Outbound vs. Inbound: We Can't Get Away from Basic Integrated Marketing
Click to start video at this point—Commenting on the outbound marketing and inbound marketing mix, Jim says we can't get away from basic integrated marketing. While everyone wants less expensive leads in the form of prospects who identify themselves via company websites, traditional direct marketing is still needed to educate prospects and drive them to websites.
Research indicates that prospects are completing 70% of the decision making process before they want to talk to a salesperson, but information sources for this self-education still needs to include direct mail pieces, emails and trade show participation.
Some companies have abandoned traditional methods of generating leads and are trying to use only one vehicle like marketing automation. But many are going for cold, hard, qualified leads. They are successfully using integrated direct marketing programs—combining mail, email and telemarketing in a 1-2-3 punch—to hit very targeted prospects on the upper end of their marketplaces.
He notes the basics haven't died—they've just shifted.
Proactive Value-Added Selling Needed Much Earlier in the Buy Cycle
Click to start video at this point—In response to a question about the real value of prospects who contact sales when they are 70% of the way through the buying process, Jim describes a common scenario:
"I've seen a resurgence in value-added selling because companies are being hammered on price by people who call up the sales rep and say, 'We've done our research and want to get a price.' But it really doesn't tell you they've been talking to one or two salespeople from their most valued suppliers for five months, and the only reason they're talking to you is to get the third bid. And this salesperson is trying to create value, and it's way too late in the chain to create value."
Because of experiences like this, many companies are focusing on value-added selling. This approach helps them ask better qualifying questions, separate valuable leads much faster, and create value from the start.
He recommends that value-added selling take an integrated multi-touch, multi-media approach—at least six to eight touches with email, direct mail and phone calls. He cites research he's done that shows any contact after the initial inquiry helps push up the closing ratio by as much as 50%.
The Marketing Manager's Role in Alignment Leadership & Wealth Building
Click to start video at this point—In discussing alignment, Jim immediately focuses on marketing and sales managers who need to step forward into leadership roles. With many sales managers focused on their own responsibilities and teams, it is the marketing manager who can and should take the bigger, longer view.
Marketing managers should start with quota and figure out how many inquiries are needed to reach it. He notes the best companies—the ones that are lead machines—still only produce enough to get 50% or 60% of the company's sales.
Charged with wealth building for the company, the marketing managers have to create buzz, inquiries and leads—all linked to quota. Ultimately, the marketing management staff delivers more wealth for the company than their sales forces do.
Recommendations to Close More Deals in 2012
Click to start video at this point—Asked about recommendations to help close more deals during the balance of 2012, Jim notes that there is barely enough time for companies with a sales cycle of three to six months.
He says it's necessary to compare quota to the size of the pipeline to see what has to happen to resolve the difference, and then start by focusing on all inquiries that came in during the last year.
His research shows 15% of leads close in three months, 26% close in six months, and 45% close within a year. But numbers also show 56% of inquiries that are six months old and 36% of inquiries that are one year old are still in the marketplace. Go back and talk to all these inquiries.
To bring in the most qualified leads in the shortest period of time Jim recommends these tactics:
Hire a B2B telemarketing company to call inquiries from the last twelve months.

Use large flights of both direct mail and email.

Take another look at trade show attendees as leads from trade shows still take fewer touches to close.

Use BANT qualifiers.

Filter inquiries and leads by grading them.

If you have outside salespeople, always deliver a proposal in person.
You can connect with Jim and learn more about his work at the Sales Lead Management Association via the following resources: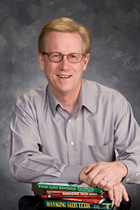 Jim's Email Address: jobermayer at salesleadmgmtassn dot com
Sales Lead Management Association Website: www.salesleadmgmtassn.com
Sales Lead Management Association on Twitter: @SalesLdMgmtAssn
The next PowerViews will be with Rich Vancil of IDC Research. Stay Tuned.
By Dan McDade
Topics: B2B Telemarketing, Lead Generation, B2B Marketing, Marketing Strategy, B2B Sales, Inbound Marketing, PowerViews, Outbound Marketing, Cold Calling