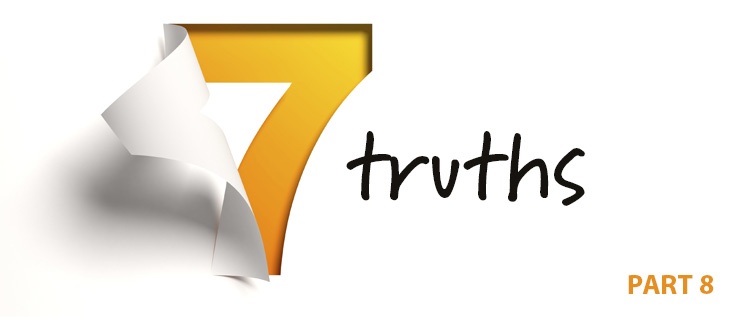 Develop a guide for sales on "What is a Lead and How to Follow-up on One" is the last of 7 Truths about Sales and Marketing that CEOs need to know. This post is part of a series about the CEO's role in eliminating wasted marketing spend and increasing sales results.

In the last blog in this series we discussed lead nurturing, and how an advanced lead generation program that includes nurturing can triple your sales. Today we will discuss why it's vital for marketing to develop a training guide for sales so all are on the same page as far as understanding what constitutes a lead in your organization, and what's the best way to follow up on one.
Set sales straight—it's a win win
Many sales reps lack insights on the best way to follow up on a lead. The following data is from an insightful post on the Marketo blog by Michael Boyette of the Rapid Learning Institute: Why Sales Reps Don't Follow-up on Good Leads. Michael maintains that sales reps often underestimate the time it takes to close a lead, and give up too soon. These statistics tell the story: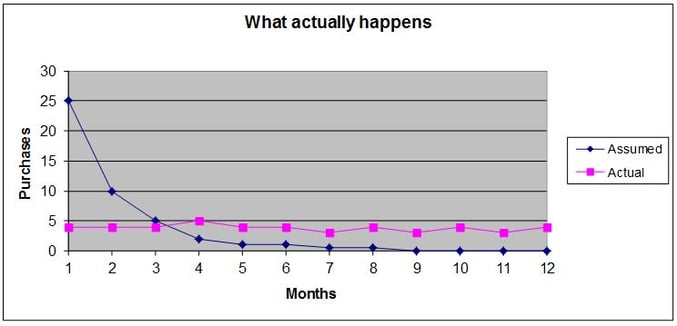 The chart shows that sales reps act on a premise that the buying process is front-end loaded while in fact a relatively consistent percent of leads buy month after month after month. The problem is that sales reps give up early and win only a small percentage of possible deals—wasting a significant portion of marketing's investment. Helping them understand actual vs. assumed buyer behavior in B2B sales environments helps alter their behavior—and helps them be more successful.
In another blog post, SiriusDecisions' Jay Gaines (vice president and group director, demand) writes that getting sales to accept a lead (thereby terming the lead a sales-accepted lead, or SAL) is the most important (and most overlooked) step in the demand creation process. Note that at this step sales is not saying the lead is qualified (that would be terming the lead sales qualified lead or SQL). At this step marketing is asking sales to say at the SAL stage is that based on an agreed-upon lead definition the lead appears to meet SAL specifications. For various reasons, sales often won't accept the lead. Maybe the rep simply has a hunch the lead's not good, or has another subjective reason not to follow up.
Jay writes:
"A formal lead acceptance process (see Truth 6 in this blog series outlining the importance of having a judicial branch in place) is important in b-to-b demand creation for four reasons:
Avoiding lead oblivion. First and foremost, the acceptance process allows marketing to confirm that sales or partners are acting on all delivered leads.
Rapid identification of problems. The rates of lead acceptance and rejection reveal lead management and quality problems that can be quickly addressed. Organizations should strive for lead acceptance rates that are 90 percent or better. Lower rates typically indicate a breakdown between marketing and sales.
Starts the clock on follow-up. With acceptance, sales is obligated to follow up with the lead in a specific timeframe (no more than 72 business hours is advisable; 24 hours is a best practice).
Reduction of lead waste. Rejected leads should be automatically rerouted back to marketing or teleprospecting for further attention and resubmission if necessary.
The SAL stage is typically overlooked because it is viewed as unnecessary and cumbersome. However, it should take no more than a few minutes of sales time, and it's the best thing an organization can do to ensure that the budget, effort and resources devoted to lead generation are not wasted."
In support of the discussion around why a formal acceptance process is vital to a successful sales organization, I refer to this Target Marketing article I wrote some years ago and quoted SiriusDecisions as follows:
"According to SiriusDecisions, the two areas of 'purgatory' where lead leakage occurs can be defined as:
Marketing lead purgatory occurs between MQL and SAL, with marketing throwing leads over the fence and sales never accepting them. Approximately 70% of all leads are rejected by sales—either actively or by inaction.
Sales lead purgatory occurs between SAL and SQL, with sales accepting leads but subsequently losing contact or interest. Another 20% of leads are ineffectively worked for mostly subjective reasons (i.e., a sales rep reports, 'I called the prospect three times. He didn't get back to me, so he must not have been interested').
With a lack of accountability in both marketing and sales lead purgatory, leads are lost and ultimately reappear as wins for the competition."
So, we know how things break down—what do we do to fix the problem?
Develop a lead hand-off process and follow-up best practices
At PointClear, we recommend developing a guide for sales on how lead hand-off is managed and how follow-up should be handled. We also strongly advocate for ongoing training to continuously remind the sales team what the organization's expectations are. Following is, at a high level, what should be included in the guide:
SAL lead generated via marketing, i.e. teleprospecting
Set dates and times for sales rep to call (or visit) based on what works best for prospect (we get some push back on this from sales, but in most cases sales reps have more flexibility in their schedule than does a busy prospect)
Send lead details and audio to sales management and the sales executive
Gain sales acceptance
SAL lead distributed
Sales management and/or executive review lead (PDF and/or CRM and audio file) prior to reaching out to the prospect
Sales executive sends prospect email confirming the upcoming call and reviewing their understanding of expressed pain points, specific interest areas, or case studies from the lead documentation and refers to prior conversation with their colleague (the business development or inside sales rep)
The day of the call
Sales executive re-reviews PDF and/or CRM and audio file (where/when available)
At scheduled time, if prospect is not available:

Sales executive leaves a voicemail stating that he/she will try again in approximately five minutes
Call back as indicated, if still no connection:

Sales rep sends email to schedule a new time, follow-up with a telephone call and leave a voicemail message, then the next day send one more email. Make sure all correspondence is relevant to the prospect—not just "I am looking forward to speaking with you"
If no response, the lead goes back to PointClear or the internal business development team for rescheduling. Virtually 100% of these "reheats" result in a rescheduled call
My friend Matt Heinz authored an excellent blog entitled Six Rules for More Effective Sales Lead Follow-up that can be found here. He notes that the keys to success in lead follow up are:

Process: Define a series of touches (telephone, voicemail, email) and design call/content templates that reps can customize

Persistence: In an earlier blog in this series I quoted Mike Weinberg as follows: "The harsh reality is that almost no one returns a first message or email from a salesperson. Truly, almost no one. Even 'warm' leads typically require multiple attempts to earn a reply or call back. So it's foolish to pretend people aren't interested or that you're doing something wrong when your first, or even second, contact attempt doesn't produce a response. And it's also a waste of energy to whine and complain about repeatedly getting someone's voicemail. Instead of whining, try preparing. Instead of dreading your repeated follow-up attempts, look forward to them. Be ready with a series of touches, each one a bit unique. The keys to earning the call back or reply are creativity and perseverance. Drip little value nuggets with pieces of your 'sales story' as you go. Be creative; be interesting."

I would characterize the key takeaway from this post: Don't assume that your sales team members know lead follow-up best practices; don't assume the agreed upon definition of a lead is top-of-mind; and don't assume that the way lead deployment is handled is efficient and effective. Document the processes, and make them part of your ongoing training and communications.

How much priority does your organization place on lead follow-up? What kind of accountability measures are in place?

The next blog will summarize and wrap-up this series—The 7 Truths about sales and marketing (that CEOs need to know) that help you eliminate wasted marketing spend and increase revenue.
Topics: B2B Marketing, Marketing & Sales Alignment, B2B Sales