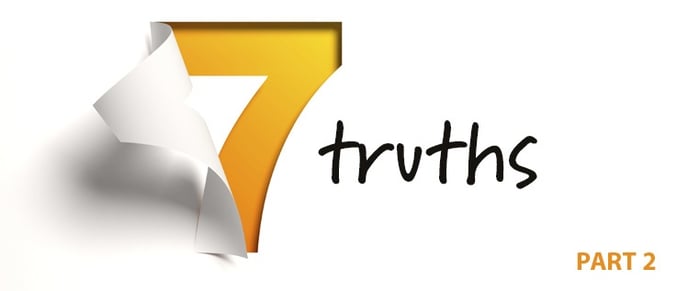 How to define a lead and gain agreement is the first of 7 Truths about Sales and Marketing that CEOs need to know. This post is part of a series about the CEO's role in eliminating wasted marketing spend and increasing sales results.
Today you'll learn why lead definition is important and why you, as the CEO, need to be involved in building your own universal lead definition:
Shortly after I started PointClear I worked with a company that blew through $100 million because marketing was selling to one audience and sales was selling to another. Marketing was creating opportunities for $10,000 deals while sales was only interested in those valued $1 million plus. It didn't matter that the biggest competitor in this space had a market value of $10 billion and sold $10,000 deals. Nor did it matter that our client had more sales executives than there were $1 million deals in the market.
I am still close to that VP of sales—he looks back with regret at all of the wasted effort that resulted in his company being sold to a competitor in a fire sale.
For whatever reason (was it beneath him?) the CEO failed to step in and act. It took less than two years for the company to go through $100 million.
The company had a good product—better than the competition—yet it disappeared. All because the CEO did not insist on a common definition of a lead.
Define what a lead is. Answer the questions: What do we sell? Who are we selling it to?
A couple of years ago I wrote a blog for Salesforce.com about lead definition. In that post I quoted a client and friend who at the time was CMO for a Fortune 100 company. One day, in frustration, he offered sales management the following approaches regarding spending $100,000 to generate leads. The options—which encompass very different lead definitions—were to focus on:
200,000 contacts (name and title) in the right vertical—but with no email addresses.

100,000 companies with up to three executive contacts—but with no email addresses.

20,000 companies with multiple contacts and verified technical environment information—but with no email addresses.

4,319 contacts who had downloaded a white paper with email addresses—but who may or may not be in targeted companies or have any need or authority to buy with email addresses, with inaccurate, incomplete or non-existent company firmographic information, and with no telephone numbers.

117 appointments with people in the right companies who may or may not have any need or authority to buy.

81 highly qualified sales opportunities with the right contact who has a need backed by some form of compelling event.
Sales management opted for 20,000 companies with multiple contacts and verified technical environment information. Sales reps did not know how to prospect for new business so the 20,000 "leads" were ignored and wasted. They also did not know how to follow-up on the highly qualified leads (the 81 option) so those sales ready leads were also wasted. My client and friend left for another opportunity and within six months the entire sales management team was terminated—all because there was no common definition of a lead within the company, and no agreed upon approach to managing leads.
Brian Carroll (MECLABS) has been talking about something he calls a Universal Lead Definition (ULD) for almost a decade. A ULD clarifies what a lead is to everyone in your organization, and these leads also:
Fit the profile of your ideal customer

Have been qualified as sales-ready

Spell out the responsibilities and accountabilities of Sales and Marketing

Make Marketing and Sales more efficient
Brian's blog continues:
"ULD doesn't need to be complex. Here's an example from one of our past research partners, an $80 billion IT management organization.
An inquiry becomes a lead when it:
Fits the target customer profile (industry, revenue, number of employees, etc.)

Has interest from a decision maker

Needs what the company sells

Plans to evaluate the solution in three months or less

Plans to make a purchase decision in six months or less

Is ready to speak with a sales rep within two weeks
Setting and using this definition brought a 375% increase in sales-ready leads without an increase in spending."
In my book, The Truth About Leads I suggest the following as criteria for a universal lead definition:
Industry or SIC code

Firmographics (revenue, # of employees, # of locations)

Identification of decision makers and influencers

Documentation of environment

Validation of business issues/opportunities

Decision making process and timeframe

Documentation of allocated budget or the process for budgeting

Documentation of the competitive landscape

Sense of urgency or a compelling event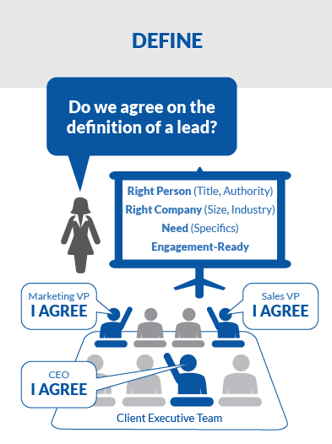 It is a mistake to delegate the creation of a universal lead definition to sales and/or marketing. If they, jointly or separately, could have solved this problem before they would have. This action is so important that it requires the CEO to be involved. Others that should be included in the discussion are other leaders such as the COO, CFO and, of course, senior marketing and sales management.
One final note in this discussion: It's important to note that lead definition is not something to be done once and checked off the list. It's a continuous process to assure that market trends, changes in the competitive landscape and your evolving offerings are taken into account. Later in this series we will talk about the Judicial Branch which keeps marketing and sales honest and allows for adjustments to the universal lead definition if needed.
The next blog in this series covers how to drive revenue from all sources: inbound, nurture and proactive outbound. You'll learn how a balanced allbound marketing program helps you achieve the revenue you need by keeping you focused on the right market.
Topics: B2B Marketing, Marketing & Sales Alignment, B2B Sales