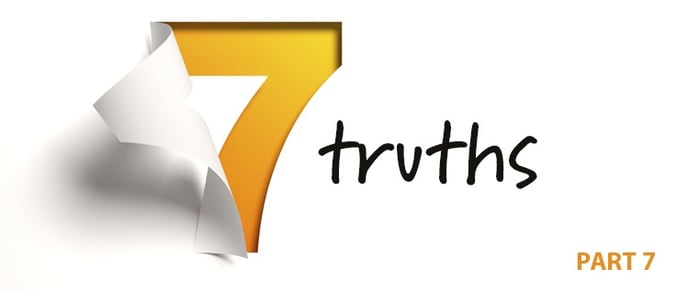 Nurture leads until they're ready to turn over to sales is the sixth of 7 Truths about Sales and Marketing that CEOs need to know. This post is part of a series about the CEO's role in eliminating wasted marketing spend and increasing sales results.
In the last blog in this series we discussed how to keep leads from being ignored and going into a black hole by using something I call the judicial branch. Today we will discuss how lead nurturing can triple the return on most marketing campaigns:
Nurturing is essential for successful lead generation—both inbound and outbound. In fact, I propose that nurturing is the most underutilized marketing activity at a marketer's disposal. Additional contact using multiple touches and multiple media—including phone, voicemail and email—across multiple cycles is well worth the time and expense. Generally speaking, nurturing programs increase the lead rate significantly:
Standard B2B lead-generation programs produce an average 5% lead rate.

Advanced lead-generation programs (which include nurturing) produce an average 15% lead rate—a whopping three times higher.
Before we get into the details, note that there are three groups of prospects that require nurturing:
Marketing Pipeline. These are prospects with a specific planned next step to be taken within a reasonable timeframe.
True Nurture Opportunities. These are fully qualified prospects who are not immediately interested.
No Response. These are contacts past the point of diminishing return on a given touch cycle.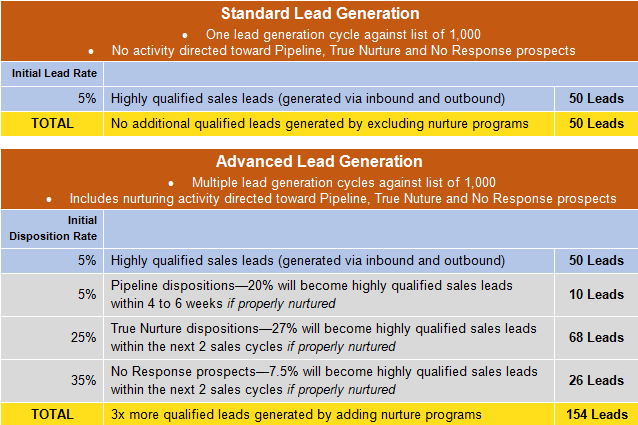 Nurturing is about talking to your prospective clients at every stage in the sales cycle
Per Julie Schwartz, senior vice president, research and thought leadership at marketing research, consulting and training firm ITSMA: "It's widely believed that 60% to 70% of the buying process is over before prospects want to engage with a salesperson. The premise is that there is so much information available online that salespeople are thought to be unnecessary in the early stages. ITSMA's data says that for high consideration technology solutions, this is a myth. In fact, we believe just the opposite: 70% of B2B technology solution buyers want to engage with sales reps before they identify their short list. In fact, buyers perceive value in interacting with sales at every stage of the buying process—even the early stages.
In the epiphany stage they want education and unique perspectives; in the awareness stage they want product information and subject matter experts (SMEs); and in the interest stage they want benchmarks and best practices. See more …"
The bottom line is that you should be speaking to prospects from the top of the funnel to the bottom of the funnel. Prospects will move up and down in the funnel. And, there are no silver bullets regarding content that should be consumed by prospects at various stages in the sales cycle—every prospect and situation is different. Hence the growing popularity of Account-Based Marketing—the marketing approach that treats each account uniquely, addressing specific needs with specific information in a consultative way to help prospects progress toward the right solution for them.
Why do you think most organizations don't see the value of nurturing? What sort of impact has nurturing had on your sales activity?
The eighth blog in this series discusses the importance of developing a guide for sales to make sure they understand what a lead is, and have the information needed to properly follow up on one.

Topics: B2B Marketing, Marketing & Sales Alignment, B2B Sales