Today's PowerViews guest is Ginger Conlon, Editorial Director of 1to1 Media. She is responsible for the direction and day-to-day editorial operations of award-winning publications including the executive journal, Customer Strategist; online business publication, 1to1 Magazine; its e-newsletter, Weekly Digest; and Think Customers: The 1to1 Blog. She was recently selected as one of the top 25 CRM influencers you should be following by Zoho. Ginger has covered the industry for more than 25 years. She regularly speaks at industry events and has both contributed to and edited several books on customer strategy.
Below, you can read highlights from our discussion or use the links to start the video from different parts of the conversation.

Social Megaphones, Trustability and Great Customer Experiences
Click to start video at this point—Asked about what companies are thinking and doing about satisfying their customers in 2012, Ginger notes the combination of the current economy and customers having social media megaphones means companies can't hide from what customers are saying anymore. As a result, many companies are focusing more on providing great customer service and great customer experiences.
She adds that an important way to do this is to focus on what Don Peppers and Martha Rogers call trustability—proactively building a trusting relationship with your customers. This focus on trustworthiness has become a hot button issue for CEOs, analysts and others.
She also notes that it costs less to retain current customers than to find new ones, and this points to trustability, great customer service and great customer experiences as being top priorities for marketers.
Use Customer Voices to Prioritize Social, Mobile & Automation Investments
Click to start video at this point—Commenting on how to prioritize investments in social media, mobile and marketing automation, Ginger encourages companies to, again, understand their customers first. Then develop a strategic approach that is grounded in that understanding and how your customers prefer to interact with you.
She adds this is where the voice of the customer comes in and keeps growing in importance. Taking the time to learn about customers by listening in on their social interactions and understand their web behaviors will help determine where to invest.
Social media—Understand how often your customers are on social, how they use it and where they use it. If your customers aren't on Facebook, do you really need to be there? Understand why you are where you are.
Mobile—Every company may not need a mobile app, but they need a mobile optimized website. This becomes more critical as customers increase usage of smartphones.
Marketing Automation—Again, how you use marketing automation will depend on how you will be interacting with your customers.
High Outbound Presence Drives Inbound at the Right Time
Click to start video at this point—In response to a question about the ongoing outbound marketing vs. inbound marketing debate, Ginger notes that companies need both, and balance is the key. She notes:
Going back to the voice of the customer, when you understand where your customers are and the best ways to find them, you'll know where to find your hottest prospects.

Being out there at conferences and interacting on social platforms to solve problems helps prospects learn more about who you are.

This constant presence and availability in the market feeds inbound when it comes time for prospects to say, "OK, I have this need. Who can help me solve it?
Marketing & Sales Alignment—More Important than Ever
Click to start video at this point—Referencing a survey they did on alignment, Ginger says it was interesting to see the disparity of opinion: "Some said, yes, sales and marketing absolutely have to work together. It should be hand-in-hand. Some said they are two sides of the same coin: there is some overlap, but they really need to do their own thing. A handful said sales and marketing do different things, and they should just do their own thing."
She adds that collaboration between sales and marketing is getting more and more important, especially because of social and the way buying has changed. It's now more important for them to collaborate so they can move the sales process out to where customers are and have a consistent message across all the various channels.
Regarding leads, Ginger notes this is always a common point of contention, and there needs to be collaboration on what a qualified lead is, when it's a warm lead, and when it's time to give it to sales. She said they are seeing positive signs that there is greater need to support interaction between the two groups and more tools to support that interaction.
She notes there is still more talk than action, but, because there is so much talk, there will be more action on collaboration than we have seen in the past.
Advice to Marketing & Sales—Harness Big Data & Embrace Social
Click to start video at this point—On the marketing side, Ginger notes there is a lot of talk about big data. It's time to pay attention to pulling data together from all the different sources, but pull the right data. Ask yourself, "What is the data needed to support business goals and get a better understanding of our customers?"
When you have the right data about your customers that your competitors don't have, you can communicate with them in a more relevant way. You'll also be able to present them with unique products, services, customer support, or experiences. You know what they want and what's important to them at a level your competitors just can't match, and this will create competitive advantage.
On the sales side, really embrace social and listen in. Buying cycles are changing. Purchasers are doing a lot of research before they engage with your company. It's important for you to be further up the funnel. Be in those online communities offering advice, solving problems, and sharing information. Become the partner before the sale so there is a relationship established, and, when it's time to have that conversation, it won't be just about price.
You can connect with Ginger and learn more about her work at 1to1 Media by visiting the following resources: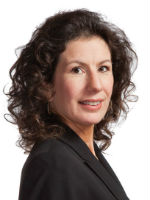 Ginger's Email Address: ginger dot conlon at 1to1 dot com
Ginger on Twitter: @customeralchemy
1to1 Media Website: www.1to1media.com
The next PowerViews will be with James Obermayer of Sales Lead Management Association. Stay Tuned.
By Dan McDade

Topics: B2B Marketing, Marketing Strategy, B2B Sales, Inbound Marketing, PowerViews, Social Media, Outbound Marketing