My PowerViews guest today is Andrew Gaffney. Andrew is currently Editorial Director at G3 Communications, as well as Editor and Publisher of DemandGen Report. He has served as an Editor and Publisher of This Week In Consumer Electronics, Sporting Goods Business, Consumer Goods Technology, Retail Info Systems, Hospitality Technology and Mobile Enterprise. Working with a wide variety of clients from tech firms to sports properties and lifestyle brands, Andrew has crafted successful campaigns built around white papers, event-based advertising and sales training materials for clients such as Major League Baseball, Canon, DuPont, SAP, Business Objects, Oracle and many others.
Below, you can read highlights from our discussion or use the links to start the video from different parts of the conversation.

Merger & Acquisition Activity in CRM & Marketing Automation Expected to Increase
Click to start video at this point—Andrew expressed some surprise that last year there weren't more mergers and acquisitions in the marketing and sales spaces. While some of these spaces are still being defined where marketing automation plays with CRM, he believes we'll see M&A activity in 2012. Asked about whether Salesforce.com may make an acquisition, he notes they do play nicely with several marketing automation providers, and an argument could be made that they are purposely staying out. He adds that there is so much logic for CRM and marketing automation being brought together that M&A activity will happen at some point.
Look for Greater Process Integration and Alignment in 2012
Click to start video at this point—Andrew comments that process integration and alignment are really taking shape this year. Where there were siloed approaches about marketing initiatives and their data, there are now a number of different technologies, tools and capabilities that—when used together—make for a more intelligent, cohesive approach. He adds that many new marketing automation and CRM applications are much more seamless, and this delivers a lot of positive impact for sales and marketing teams.
Prioritizing New Media: Start with What the Buyer Needs, Wants & Looks Like
Click to start video at this point—Asked about how marketers should prioritize investments given the number of options like marketing automation, social media, and mobile marketing, Andrew says this is a unique set of circumstances and recommends that marketers start out with what their buyers need, want and look like. Understanding this dictates what you do from a campaign standpoint, as well as the messaging you're doing.
Outbound vs. Inbound: A Balance that Still Requires Personal Contact
Click to start video at this point—Commenting on the debate between the right outbound/inbound marketing mix, Andrew notes that the dichotomy is a bit hyped: you still need a balance that delivers multiple touches in multiple media. DemandGen Report has a study underway to determine the content and kinds of messages that buyers prefer and respond to. He notes that they're also finding out with their sold out Conversion2Content conference that people still like to get together physically and hear from people. He mentions a DemandCon panel he was on with a representative from a semiconductor company who reported they are doing a lot of outbound telemarketing. He adds that—in addition to the digital contact—you still need a lot of personal and physical touches to make that final connection.
Lead Evaluation Metrics: A Leaning Curve to Relevance in Reporting
Click to start video at this point—In response to a question on marketers defaulting to lead quantity and cost-per-lead metrics, Andrew talks about a measurement maturity cycle. As companies get more sophisticated, they come to better understand the lifecycle of a lead, leverage this knowledge, and are better equipped to focus on lead quality. He adds that it's a learning curve for a lot of companies. When you don't know the answer about what you should be measuring and reporting on, there is a tendency to go to the easiest answer which might be something like the number of people who download a white paper. As marketers get more sophisticated and get a better understanding of how their buyers are going through the buying process and learn what their triggers are, then they bring more relevance to reporting.
Marketing and Sales Alignment: Beyond the Tipping Point
Click to start video at this point—Andrew notes that sales and marketing alignment is beyond the tipping point with companies realizing that alignment is key. He says that any newer company has come up with a foundation that you have to have an integrated approach, and he adds that VC firms are now looking at this process factor. As an example, he points to Marketo's success and the way their marketing group was driving leads even before they had a sales team. While there is still a lot of learning that some companies have to go through in this area, alignment is going to become a competitive necessity.
Widespread Use of Outbound Marketing Among Software Providers
Click to start video at this point—Commenting on the prevalence of outbound marketing among software providers, Andrew notes they have to be aggressive because it's still pretty easy for a buyer to switch—particularly in the SaaS-based sector where the barriers to entry are low. He notes these particular companies are all tremendously aggressive and very good outbound marketers, and this resulted in a fair amount of cannibalization in the category early on.
2012 Actions: Understand Buyers, Tighten Targeting & Measure Correctly
Click to start video at this point—Asked about actions marketing and sales should take for the balance of 2012, he notes buyer understanding and buyer intelligence are critical. He advises companies to start with newly acquired customers to determine how the conversion progression went, what the triggers were, and how that can be applied to get future wins.
He still sees big companies saying they can sell to anybody and going after the Fortune 5000—usually because sales feels good that there are a lot of companies they can go after. But he adds that the companies that are really getting smarter are drilling down to focus on their sweet spot.
And Andrew says that getting better measurement is a real competitive differentiator. It's still hard to do right, he notes, and some marketers tend to "go to the crutches" like cost-per-lead or number of leads generated. But it's important to understand lead progression in terms of how many converted and how messaging is working in the middle of the funnel to accelerate early-stage leads into qualified prospects.
Databases Play a Key Role in Driving Multi-Touch & Multi-Media Contact
Click to start video at this point—Andrew emphasizes the importance of well-defined, current and accurate databases because they provide the rich information and good insights that drive multi-touch, multi-media contact. He adds that knowing and tracking where buyers hang out and what social media they engage in is proving to be another competitive differentiator.
You can connect with Andrew and learn more about DemandGen Report by visiting the following resources: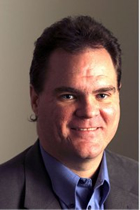 Andrew's Email Address: andrew at demandgenreport dot com
DemandGen Report on Twitter: @DG_Report
DemandGen Report Newsletter: www.demandgenreport.com
The next PowerViews will be with Ginger Conlon of 1to1 Media. Stay Tuned.


By Dan McDade
Topics: B2B Marketing, Marketing Strategy, B2B Sales, Inbound Marketing, PowerViews, Social Media, Outbound Marketing