An interesting post by SoftwareAdvice.com's Derek Singleton—What Does Social Manufacturing Look Like?—noted the Dreamforce announcement of Salesforce.com's support for Kenandy, a cloud-based manufacturing solution that incorporates the social tool, Chatter.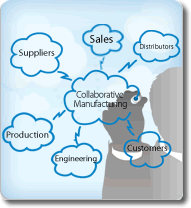 Kenandy has been founded by Sandy Kurtzig, the former CEO of ASK Group and the creator of ManMan. Series A funding has come from Kleiner Perkins Caufield & Byers, Salesforce and Wilson Sonsini Goodrich & Rosati.
The solution is notable for many reasons, one of which is the speed of implementation: the first customer went live within two weeks of meeting the Kenandy team. And significant savings around personnel, infrastructure and time occur because there is no need for on-site applications, hardware and databases.
Derek notes that Salesforce's Chatter is used to communicate both externally (customers, suppliers and distributors) and internally (production, engineering, and purchasing). Chatter essentially provides a private social network that promotes collaboration, connects people quickly and accelerates information sourcing and sharing.
In the process of learning more about Kenandy, I found additional information in Deborah Gage's Wall Street Journal Venture Capital Dispatch blog in which she talks about Sandy Kurtzig's initial reluctance to raise venture capital. This comment by Kleiner Perkins Caufield & Byers Managing Director Ray Lane jumped out at me: "You don't want to be spending your own money on hiring salespeople…when you start hiring salespeople, you better have revenue flowing in the door."
The comment made me think about our outsourced B2B lead generation services and the way we have successfully partnered with manufacturing, technology and start-up companies to cover their markets, develop their prospects and deliver highly qualified sales opportunities to their field sales teams.
In fact, there are advantages similar to those of Kenandy's cloud strategy in that PointClear's outsourced services can accelerate lead time-to-delivery and reduce the need for internal marketing and sales groups to invest in lead generation, lead qualification and lead nurturing infrastructure.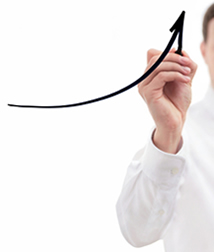 Another major benefit is that our prospect development services provide thorough market coverage, a requirement that few companies are able to address successfully. In most cases, marketing and sales teams are only able to cover a fraction of their market, and this means that only a fraction of potential deals are being closed.
These points are well illustrated in a PointClear case study that describes our outsourced B2B lead generation and market coverage partnership with a Southeast manufacturer of industrial equipment. Working closely with Ascension, an Atlanta-based strategic marketing and sales growth consultancy, we identified high-potential prospects and provided sales opportunities to the company's three top-performing distributors.
The manufacturing company was laser focused on generating demand among new prospects or non-customers, and, within the first six months of the engagement, more than 350 new sales opportunities were generated, 85% of whom were prospects not previously on the client's radar.
In a sense, Kenandy and PointClear function in similar ways to move strategic business processes out to more efficient and cost-effective resources. In the case of manufacturers using Kenandy, they are moving ERP processes away from expensive and resource-intensive internal infrastructure to the cloud. In the case of our manufacturing client, it is moving a requirement for total market coverage and new account penetration away from the marketing and sales groups to a proven outsource services provider.
In both situations, there are significant advantages in terms of reducing infrastructure costs, freeing resources to focus on core competencies, and realizing performance gains in targeted areas.
By the way, I learned that Kenandy is named after Sandy Kurtzig's sons, Ken and Andy, and I really like this personal touch.
By Dan McDade
Topics: Lead Generation, B2B Marketing, Marketing Strategy, B2B Sales