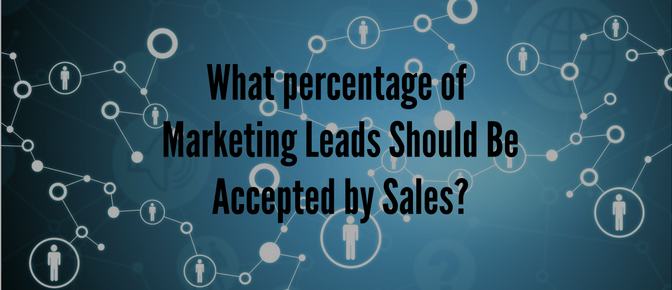 The biggest disconnect between marketing and sales is the hand-off of marketing qualified leads (MQL's) to sales and the acceptance of those leads (SAL's) by sales. Unfortunately, the baton gets dropped more frequently than it is successfully passed.
My solution to this is having a lead definition agreed upon by marketing and sales, and the establishment of a judicial branch to evaluate leads that are not accepted and passed back to marketing or dead in the funnel. You can read more about the judicial branch here.
According to Terry Flaherty, Senior Research Director, Demand Creation Strategies at SiriusDecisions in this blog, "Measuring the Impact of Successful Sales Handoffs" :
"Organizations with a formal SAL stage in their lead management process generate 9.3 closed/won deals per 1,000 inquiries, while organizations without a formal SAL stage generate only 4.6 closed/won deals per 1,000 inquiries. That's more than 100 percent higher performance for companies that have the rigor of sales acceptance in their lead management process.
While the process is in place, the acceptance rate of 42 percent is still much lower than it should be. When marketing, teleservices, and sales are aligned on lead definition, the SAL rate should be at or above 85 percent. The 42 percent rate could be an indication of either disagreement in lead definitions in these companies, or inconsistent adoption by the sales team of the SAL stage in the process. So it's great that companies are measuring this, but there are still significant opportunities for improvement.
Another possible contributing factor to the 42 percent SAL conversion rate is the SAL stage being triggered by lead quality assessed from the first sales conversation instead of by handoff. The SAL stage is intended to provide insight on the execution of the sales handoff process, not reflect lead quality. Lead quality will be assessed against the progression of leads and opportunities to the later stages in the Revenue Stream after the successful change-in-control process handoff."
Imagine doubling revenue by managing the handoff of MQL's to sales through the sales accepted stage.
If you want to talk about how that can be done, by establishing an agreed upon lead definition and a judicial branch, just let me know.
Topics: B2B Marketing, B2B Sales, Sales Leads