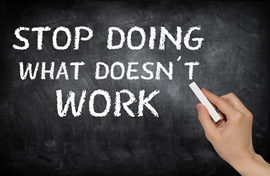 Few companies get by on their good looks—although the engineering department would like to think that the pure genius and word of mouth about your product is enough to sell it. In their opinions marketing is not needed. Well, I hate to break it to them, but without marketing the majority of companies will either fail or fail to reach their full potential. They may make money, but the world is loaded with companies holding the 4th, 5th, 6th or 7th place in market share, while the 1st, 2nd and 3rd leading firms spend what it takes to gain market share and manage the leads that their programs produce. And lead management has told these winners where to spend their marketing dollars.
Winners know the sources of the "Good Leads." In the movie adaption of Glengarry Glen Ross, it is Jack Lemmon who asks for the good leads.
All salespeople want the good leads; they know instinctively and from experience that some sources of leads are better than others.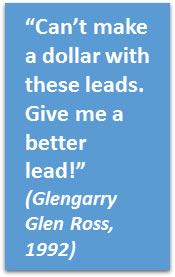 Ask a salesperson for the source of their sales from leads and they can tell you: this show … that advertisement … this direct mail program … that radio show. Ask a marketing executive for the sources of sales from their marketing programs, and usually they say they have to get back to you on that one. Informed marketing executives go straight to the CRM System or their marketing intelligence software, and they know the best buys in the plan. The preeminent marketers buy more of what works and leave the rest to their competitors.
Less experienced marketing executives won't set up the lead management system right to begin with, so they won't know which are the most efficient media buys. They won't have the appropriate relationship with sales management to ensure that leads are not only followed up but also closed out. Money will continue to be spent on tactics that don't produce the most qualified leads. They will complain that salespeople don't report back on the leads, management doesn't cooperate, and life just isn't fair. Excuses all.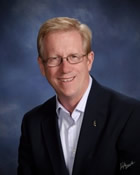 Today's blog was submitted by James Obermayer, Executive Director and CEO of the Sales Lead Management Association and President of Sales Leakage Consulting. James is a regular guest blogger with ViewPoint.







Topics: Marketing & Sales Alignment, Sales Leads