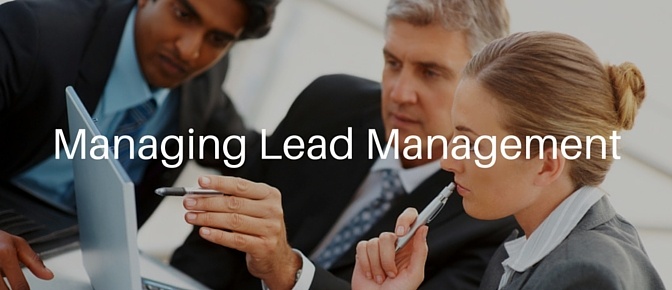 Sales Lead Management is a complicated process. It needs a leader to pull all of the competing interests and people together to work as a team.
Sales lead management is a tough subject to truly get your arms around. There are dozens of outside vendors who say they manage some portion of the sales lead process and more than two dozen internal departments that contribute to the process and the decision making. My point is this—you need a Sales Lead Manager to pull all of the competing departments and managers together to obtain the best revenue per lead for your company.
Without a leader for sales lead management, there is nothing less at stake than a predictable growth in revenue when sales leads are managed, versus experiencing a 75-90% waste of the marketing budget when sales leads are not managed. Let's tackle the subject by looking at the elements involved and our recommendations for solving the problem.
There may be a half-dozen outside vendors managing some aspects of lead management:
Sales Lead Management and Fulfillment Firm

Direct Marketing Agency

Digital Agencies

Telemarketing Inbound

Telemarketing Outbound (qualification and lead generation)

Telemarketing Sales

Content Agency

PR Agency

Branding Agency

SEO Agency

Business Intelligence

Database Providers
Why It's Important:
"Someone must be responsible for the sales lead management process. If no one is completely responsible, the company's revenue suffers from wasted leads, misused high marketing costs, and uncontrolled sales expenses."
Sales Lead Management Association
A dozen or more internal departments (a more detailed list here):
Sales Department

Sales Operations

Demand Creation Department

Inside Sales

Product Management

Marketing Communications

Marketing Department

Content Management (grading of the inquiry)

CRM Management (grading of the inquiry)

Lead Nurturing Services

Marketing Automation Management

Two major departments compete on rules establishment and daily management (sales and marketing)

Marketing Operations Department

Website Management

Social Media Department – blog, Twitter, Facebook, LinkedIn, iTunes, YouTube and Pinterest, to name just a few.

Public Relations

Investor Relations

Data Entry (includes screening for duplicates and competitors)

Fulfillment – electronic and mailed, which includes warehousing

Literature Control – creation, reprinting and inventory management

Sales lead acquisition devices at trade shows and conferences

Sales territory management: which can include territories by zip code, telephone area code, counties or even major city streets. Not to mention grandfathered account and major account assignments, inside vs. outside vs. independent reps, and lead assignments based on product and revenue, and country or state. The "if this then that" maze is formidable for sales lead assignment.

International Channel Management

Sales Channel Management

Field Marketing Management
Daunting and confusing isn't it? It's easy to say that the Director of Marketing manages this morass of competing interests. But we know that is the road to failure because it is a job in itself. It might be placed under the direction of Marketing Operations, but this is usually a strong IT function with limited experience with other departments. It could be under the direction of the Marketing Communications Manager (and often is), but that seems to be a diminishing or disappearing position in many companies.
Which brings us to this thought: without a single supreme being making all of the decisions necessary when taking into account the dozens of stakeholders (not to mention the salespeople), most companies have no control over their sales lead process because no one is in charge.
Four Recommendations:
If you do these four things, the entire sales lead management machine and dozens of departments and vendors will fall into line, with the objectives of serving the prospect and the company's revenue expectations to the best of their abilities.
You cannot make progress in solving this problem unless you have a manager specifically tasked with managing the company's future revenue: the Sales Lead Manager.
Topics: Marketing & Sales Alignment, Lead Management, Sales Leads