Two killer apps: FaceTime and face time.
The former is new: FaceTime is the name of the iPhone 4's two-way video calling feature.
The latter leads all sales best practices: face time is meeting face-to-face with qualified business sales leads to understand their needs and move them toward your solution.
Both FaceTime and face time share great people-to-people stuff: connecting and spontaneously participating in conversations that range from stories about what we're thinking, feeling and doing in our lives to more focused, task-oriented discussions.
One feels more B2C: FaceTime is pitched as a friends-and-family tool for staying in touch and sharing.
The other is more B2B: face time conversations—by addressing challenges, buying processes, differentiators and objections—deepen business relationships and move them on to the next best action steps.
I continue to be astonished that some people in charge of sales and marketing strategy are not engaging sales prospects personally—either via phone time or face time—and instead relying heavily on virtual tools and virtual relationships to tell them whether or not a prospect is interested.
I really appreciate these comments from a recent blog by Chris Koch, Director of Research and Thought Leadership at ITSMA (IT Services Marketing Association):
"We all know that B2B decisions take a long time and are made by committee and logic rather than individuals and impulse. It's hard to imagine that kind of a complex, long-term, multi-person relationship ever happening entirely or even mostly in social media. At the C-level especially, face-to-face remains the killer app for everyone involved."
Imagine that: the real killer app for sales lead generation is getting together and talking.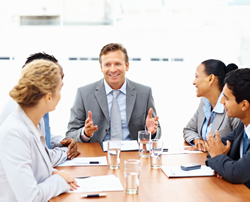 By Dan McDade