Cold calling has long been a staple of sales, but knowing just a little bit about a prospect is actually not much better. There is no such thing as "warm calling," says my latest guest on PowerViews, Joanne Black. You're either cold or you're hot—lukewarm doesn't cut it.
Joanne is the author of No More Cold Calling: The Breakthrough System That Will Leave Your Competition in the Dust and one of America's leading authorities on referral selling. She works with teams to build measurable referrals and says she can convert referral prospects into clients more than 50 percent of the time.
But how do you go about getting good, solid referrals? We addressed that question—and more—in our chat.
Here's a link to the entire discussion and, below that, some salient outtakes.

We Have Even More Responsibility to Our Buyers than Before
Click to start at this point—I asked Joanne how advances in technology have changed what is expected of salespeople. She responded that we have to do more than ever before because buyers are so well informed (largely due to the ease of research on the Internet). By the time a buyer reaches a seller, they have a real need and we have to be able to decipher what they want, ask good questions, and make a trustworthy recommendation.
Referrals are the Biggest Competitive Differentiator
Click to start at this point—I asked Joanne about what goes into a referral, and she said that knowing someone only through LinkedIn—and never having spoken with them over the phone, much less in person—is not the way to get a good referral. When someone gives you a good referral, they're telling a prospective client that you are someone who can be trusted, that you're credible—that they, in some way, "know" you. This, of course, shortens the sales process and helps you stand out from the competition. The conversion rate for referrals is over 50 percent. Nothing comes close to that. The best part? Referrals cost nothing.
Lose the Perception that You're Doing a Warm Outreach
Click to start at this point—Joanne says that many salespeople operate with the false perception that doing research on a prospect—whether via LinkedIn, or the prospect's web site, or by some other method—distinguishes them from cold callers. It does, but only to the extent that it makes them "warm." And what good is that? A referral is personal and "hot." She says that it is always best to have a conversation with a possible referral, explain what you're about, why you want to be the referral, and how we can help both that person and the prospect you're being referred to.
Be sure to check out the complete video!
You can connect with Joanne and learn more about No More Cold Calling via the following resources: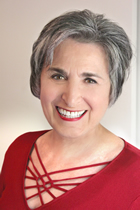 Website: www.nomorecoldcalling.com
Email: joanne at nomorecoldcalling dot com
The next PowerViews will be Chris Tratar of SAVO. Stay Tuned.
By Dan McDade
Topics: B2B Sales, PowerViews, Cold Calling