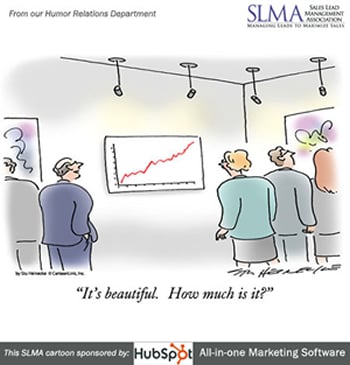 James Obermayer, Executive Director and CEO of the Sales Lead Management Association and President of Sales Leakage Consulting is a regular guest blogger with ViewPoint.
The agency came with all the right people: the creative director looked appropriately creative, the account manager appropriately agreeable, the agency founder and CEO appropriately serious and driven by a combination of the other two.
Campaigns flashed before our eyes, some even similar to our products.
✓ Branding check
✓ Digital check
✓ Direct check
✓ Radio check
✓ Events check
✓ Market share gains of the clients under their watch, check
References, impressive and solid; with names and phone numbers. Programs, reasonably recent. In business a long time. Knowledge of marketing automation and CRM system solid.
Things were going swimmingly for everyone in the room; there were many questions with answers to every question. And then we asked the final question. It went something like this.
"Do you stand behind your product?"
"What do you mean?"
"Do you create revenue and can you prove it?"
The three agency people looked at each other, smiled, and the account manager launched into a series of questions.
"What is the revenue target, and what are quotas for the sales channels by month? What is your closing rate and average sales price?"
(I'm smiling)
"What CRM system do you have, and when will the marketing automation system be on line? We need to get copied on the reports; we need to create our own reports based on sales closing by lead source."
(Sweet)
"What is the follow-up rate on the leads we will generate?"
(Questions getting better all the time)
"What is your market share percentage versus your competitor's?"
(I'm loving it at this point)
"Will we get weekly reports on closed sales, by source, source type and salesperson? We need it all.
I said to them, "If you are chosen, you will have six months to perform, and prove you have created a revenue producing system. We need a repeatable process. If you can't give us a predictable return on the money we entrust to you to create revenue, we will change agencies."
They didn't sweat, stumble or hesitate. They only asked one question.
"When do we start?"
This is a real situation. Not many agencies have their talents and their answers. No, I won't say who they are … I'm keeping them to myself. But you can ask the same questions of your agency.
Topics: B2B Marketing, B2B Sales, Guest Blogs