A lot of people don't know how to use LinkedIn. Many see it as a job board where they can post their resume, not as a hub that connects people with like-minded interests. In a business-to-business world, the main connectors are on LinkedIn, but many people are underutilizing this social media platform, says my latest guest on PowerViews, Jill Rowley, aka the Eloqueen.
Rowley, who oversees social selling enablement for 23,000 sales professionals at Oracle, earned her marketing handle during her previous decade at Eloqua. She spent six years in management consulting and 52 quarters in software sales. At Oracle she heads up social selling evangelism and enablement. Here are some salient points to our conversation.

She's Down with OPC
Click to start video at this point—Jill believes in a social surround strategy. Using social networks to listen and engage with buyers, then surrounding yourself with the influencers and experts that your buyers trust on LinkedIn and Twitter. This allows you to then read and share their content across your social networks.
Jill says, "she's down with OPC"—other people's content—and by engaging with and sharing their content she is able to develop relationships with influencers across social networks.
Define Your Personal Brand
Click to start video at this point—When Jill is coaching new sales reps in the all-important first three months of training, she said she tells them to focus on defining their personal brand—in particular on their Twitter and LinkedIn pages—and becoming a social employee.
Why are you doing what you're doing? How do you want to be perceived by the people who are visiting your social pages? People want to know how you're going to help them, Jill said, so when you're designing a social media page, think about it from the perspective of a visitor or a buyer or a prospective partner—not as a place to simply post your resume. She said you must make sure your personal profile reflects your personal brand.
Connect and Amplify
Click to start video at this point—Too many people don't fully utilize LinkedIn. Not only do too many people see it simply as a job board, but they don't know how to properly connect with people using the "advanced search" option.
Jill also told me people aren't leveraging their university alumni network to connect. They should not only connect, but amplify. The upshot: share people's content and they'll be more likely to share yours.
You can connect with Jill and learn more about Oracle via the following resources: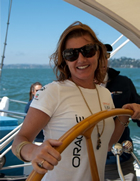 Twitter: @jill_rowley
LinkedIn: www.linkedin.com/in/jillrowley
Google Search: Jill Rowley Social Selling
The next PowerViews will be with Kyle Porter of SalesLoft. Stay Tuned.
By Dan McDade
Topics: Sales Training, PowerViews, Social Media