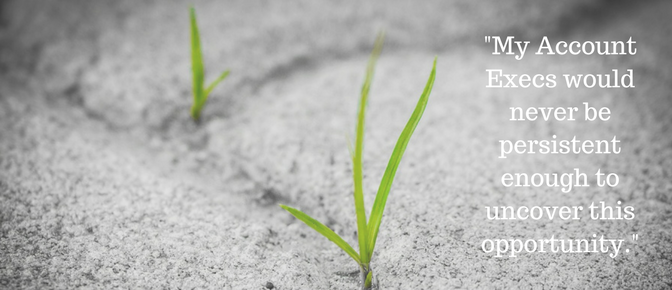 We recently turned over a huge opportunity to one of our clients. When we explained the number and type of touches this lead required, the president of that company said: "our AE's would never have been persistent enough to get this opportunity."
Here are the facts:
We worked the lead from August – December of 2016
It took thirty-two total touches from start to finish
Calls were split between five to decision-maker/influencers and five to executive assistants
We spoke with three decision-maker/influencers and two executive assistants
We left a total of seven voicemails and sent eight emails
The touches resulted in six conversations… and one giant opportunity
In another example, our target market was CFO's at the fifty largest utilities in the US. After almost three months and fifty-four total touches, the CFO of the fourth largest utility in the country called and said: "Don't stop calling me. You are my conscience. I have been extremely busy but I am now ready to talk to you." We had left voicemails, sent emails and even sent an industry magazine that featured the CFO of one of our client's clients. The deal closed for $1,000,000,000 five months later.
Just today I was copied on a note sent to one of the BDR's that supports PointClear's sales team. It said: "I figured I would share with you that at the end of our call Jamie said something along the lines of "Thank goodness Christine stayed on me and kept reaching out for me to take this conversation", which was a nice thing for him to say. It also was a perfect way for me to actually show, versus evangelize, how our process works and how our people different than what he has seen in the past….so thank you not only for the lead but the professionalism that clearly rubbed off on this prospect."
There are those who would say that fifty-four touches, or even thirty-two touches are way too many. However, in both of these cases it turned out to be just the right number of touches.
I was on the phone today with the CEO of a company that provides a CRM solution for small to medium sized technology companies. He described his target market as senior executives who are smart enough to know that they cannot depend on inbound to scale their companies. In this blog (there is also a one-minute video) I talk about the dangers of "inbounditis". If you are going to wait until the market comes to you then you should expect fewer, smaller deals.
Multi-touch, multi-media and multi-cycle processes (using Account-Based Marketing) are critical to driving bigger deals with senior level executives. You can read more about this subject here.
Want help on setting up an ABM based multi-touch/media/cycle process? Call me at 678-533-2722 or click the button below.
Topics: B2B Sales