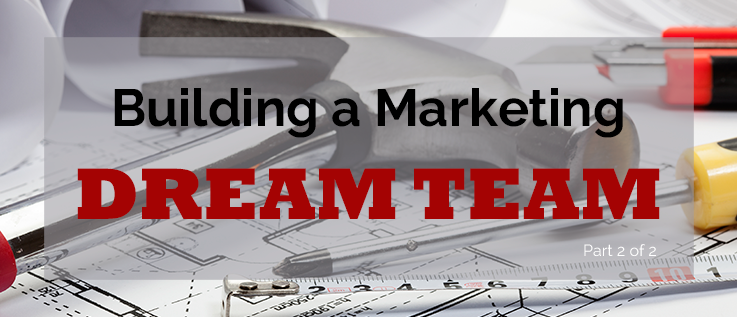 In a recent interview, I sat down with Matt Heinz of Heinz Marketing and picked his brain about what makes up a CMO's marketing dream team. Matt was one of SLMA's 40 Most Inspiring Leaders in Sales Lead Management in 2015, and his Seattle-based marketing company's involvement with many CMOs around the country certainly qualifies him for this topic.
Matt broke down the dream team into a few major components. In part one, Matt reveals what CMOs can do to earn their company's trust and three essential roles that round out a solid marketing dream team. In part two, we'll talk about the "12th man" of the marketing team, Smarketing, and what company culture actually is. (See part one here.)
Get on Track (For What Really Matters) and Stay There with "Smarketing"
There is no one easy way to measure whether or not a CMO's team is on-track. Often times, the results of ineffectiveness lag somewhat significantly behind the ineffective behavior. This is exactly why Matt believes CMOs should emphasize the importance of proper coaching across the marketing team. The most telling indicator of being "on par" is in the execution (or failure to execute) of your employees' day-to-day tasks.
Are they doing the right things? Are their day-to-day tasks producing the right results? A CMO should remain objective in his/her evaluation if things aren't working:
If the employee is doing the right thing but not executing in the right way, then they should be coached on the proper execution of their task(s).
If they aren't doing the right thing, and they don't care about doing it the right way, then that employee is probably not the best long-term choice for the company.
However, the alignment between sales and marketing is one of the most important elements to consider when creating a plan to get on track. In our interview, Matt mentioned how aligning sales and marketing isn't as easy as entrusting one person to act as coordinator between the two departments.
Each marketer and salesperson should actively collaborate with each other to uncover what campaigns and channels are effective, what can be improved, and how to contribute towards one pipeline. Matt adds, "I'm expecting the marketing operations person to sit right next to the sales operations person, and in many cases, I see those people becoming one."
In summary, it's hard to tell if the CMO is on track, but if his or her sales and marketing teams are acting as one "smarketing" team you're headed in the right direction. If your teams are aligned and effectively collaborating, and if you have a coaching strategy for the "right" employees, then you're following the blueprint of success.
Create a Compelling Culture
"I'm a strong believer in hiring the kind of people that exhibit our values." – Matt Heinz
Over 2 million Americans leave their job every month due to a multitude of reasons. Some of those reasons stem from a lack of positive company culture. Company culture isn't about having a ping-pong table, or a fully-stocked beer fridge. As Matt said in our interview, "I can make a Costco run, too."
The best way to create a culture that people want to work for is to foster a sense of pride in that work. There are performance incentives, like "Marketer of the Year" or "Salesperson of the Year" awards, but it's more important to set aggressive, yet attainable goals.
Don't give your employees the impression that they will be working for superficial benefits. Give them the context, direction, tools, and power to hit their goals and make sure that they know it's okay if they fail. If the aggressive goals are hit then your teams can celebrate their hard work and success, but if they fail then it's time for a coaching opportunity.
A big part of our discussion revolved around celebrating the little things. Don't just celebrate the fact that you hit your goals. Celebrate when a particularly difficult prospect turned into a client through some extra effort from a marketer and a salesperson, or when you break a company record on the number of registrants for an event. Celebrate the little things because it reinforces that your teams are serious about driving positive outcomes for the company.
Building a CMO's marketing dream team takes a lot of effort by the CMO. They have to envision what it takes to drive the bottom line for the company. They need to find the right people with the right values and personalities to create synergy. They have to be able to inspire a culture that promotes fulfillment and gets people excited about their work. Even more, CMOs have to be able to identify when they are on track and understand what went well, and conversely, they have to be able to adapt when things aren't going well.
Despite all the work and energy that goes into building a dream team, the effort is more than worth it. A dream team has the capacity to become integrated with all company departments, and as a result, your company will see revenue growth.
Like what Matt had to say? Checkout his discussion with Dan McDade about how too many companies are generating too many low quality leads, or his blog post titled, "5 Things to Becoming a Truly Great CMO." If you think he missed something, please leave it in the comments below!
Topics: B2B Marketing, Marketing & Sales Alignment