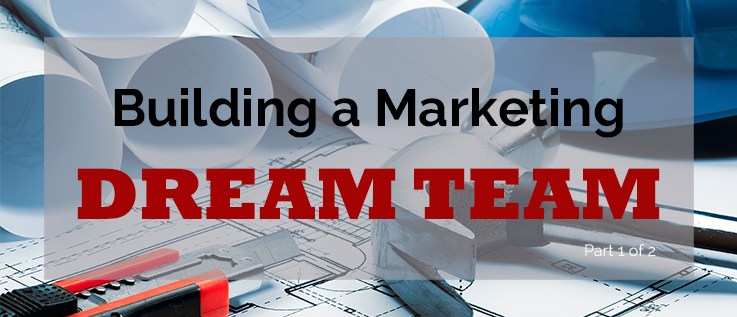 In a recent interview, I sat down with Matt Heinz to pick his brain. I pitched him the question, "What makes a dream marketing team and how should a CMO build one?" Matt was one of SLMA's 40 Most Inspiring Leaders in Sales Lead Management in 2015, and his Seattle-based marketing company's involvement with many CMOs around the country certainly qualifies him for this topic.
Matt broke down the dream team into a few major components. In part one of this two part series, we'll talk about:
the importance of creating a plan to earn the company's trust

the three most critical roles a CMO needs to consider
Create a Plan to Earn the Trust of Your Company
"I've seen some CMOs come in and not take a job unless the executive team and, in some cases, the board signs off at least verbally that they will invest in building the engine the right way." -Matt Heinz
All CMOs need to work towards making the company sustainable from a marketing standpoint. Execution of the strategy can be incredibly hard to manage. This is why CMOs need to have a plan to hit both short-term and long-term goals and they need to effectively communicate their plan to his or her employees, executive board, and other essential members of the company. The Goldilocks methodology of "just right" (balancing the importance of short-term and long-term growth) is what most CMOs should aim to replicate.
To generate short-term success, CMOs can purchase an expensive list of leads, but Matt warns against that strategy. It's costly and marketing teams will end up depending on purchased lists to generate pipeline growth in the future. This largely translates into long-term failure.
Successful CMOs work towards short-term and long-term success simultaneously by investing in and perfecting their lead generation machine. Once CMOs prove that the machine is functioning properly and efficiently, he or she will likely earn the trust of their company.
Build an All-Star Roster
Matt mentioned three critical roles within the dream team: a marketing technologist, a master storyteller, and a demand generation manager. Before we go into detail about each role, it should be noted that these roles need to work in harmony.
For example, the marketing technologist needs to make sure the demand gen manager understands the limitations in certain technologies they use, and the storyteller needs to be able to take insight from both the technologist and the demand gen manager and apply it to their content.
Matt provided a good deal of detail around each of these roles:
Marketing Technologist: "One of the first things I think about is understanding the role of technology in helping to accelerate marketing impact in pipeline development."
Matt describes the Marketing Technologist as someone who truly understands how technology drives the bottom line for marketing. They're not just in the weeds on the data and analyzing trends and statistics. An effective marketing technologist will be able to explain how certain technologies can impact specific business objectives, like using LinkedIn sponsored posts to expand reach.
In addition, they have to be able to teach other people how to use technology, because technology is supposed to enhance productivity and allow the CMO's dream team to do more, not less.
Master Storyteller: "Personas are important, but being able to translate what you know about your personas into great stories that align with the buyer's journey and makes your target audience want to engage with you is extremely important."
While segmenting your target customers into personas is an essential marketing strategy, the true challenge in storytelling is creating compelling messages that drive revenue. Matt differentiates between copywriters, content creation, and product planners and reminds us that customers are human, and they react very well to messages with emotion.
While it would be great if prospects made decisions based solely on logic, that's just not the case. Storytellers must be able to write with the intention of driving results from their target audience.
Demand Generation Manager: "Someone who will think more broadly about the demand gen campaigns than just about the email next Tuesday."
This role is heavily influenced by both the storyteller and the technologist. The demand gen manager should develop compelling, cross-channel campaigns that are repeatable and scalable.
They should take feedback from the storyteller and work to understand what messaging is the most effective across their target audience. They should also work with the technologist to automate certain aspects of campaigns, like email or social media. Most importantly for Matt, is that the demand generation manager works to mobilize your target audience.
Of course, these are not the only positions on a marketing dream team, but these roles in particular are often undervalued or overlooked. By fully understanding and strongly considering the candidates for these positions, CMOs do themselves a huge favor in the long-term success of their team.
Stay tuned for part two of this blog where we will talk about Smarketing (marketing's "12th man") and the crucial role culture plays in any successful team.
Topics: B2B Marketing, Marketing & Sales Alignment