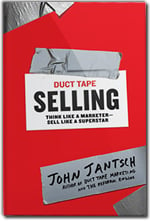 Recently I read Duct Tape Selling: Think Like a Marketer—Sell Like a Superstar, by John Jantsch, and was impressed with both the quantity AND quality of new information it contained. No doubt ViewPoint readers will find it worth the read. On the dust cover, John writes: "Most people already know that the days of knocking on doors and hard selling are over. But as I travel around the world speaking to groups of business owners, marketers and sales professionals, the number one question I'm asked is: 'What do we do now?'" And that's why he wrote this book.
The premise behind John's book is that "sales people are no longer just closers. They must attract, teach, convert, serve, and measure while developing a personal brand that stands for trust and expertise."
At 248 pages, the book is organized into three sections:
Mind-set of the New Sales Guide
Practices of the New Sales Guide
The World of the New Sales Coach
The word "guide" in John's context refers to how the individual sales professional guides the buyer through the buying process.
Having written and delivered sales training in a previous life, I feel the strengths of this book are displayed in the way John helps the reader develop the mind-set and skills to sell differently. He also presents specific practices that are required in today's selling environment, and he offers excellent tips and suggestions for sales management and coaching.
Here are some highlights from each section I think you'll find particularly helpful:
Mind-set of the New Sales Guide
In the first section of his book, John breaks down listening into four forms: passive, selective, active, and perceptive—with perceptive listening being the ultimate goal for sales people. Perceptive listening is not only hearing and interpreting what is being said, but also considering what the person is not saying based on how they're acting as they speak. I think we have all been guilty of passive, selective, and even active listening, and John provides ideas on how to become a perceptive listener. It occurred to me as I was reading this section that—while I wasn't aware of it at the time—my decision to start PointClear many years ago came out of one of these types of exercises. It goes to show that you never know what can happen if you just listen!
One of my favorite parts of the book is the section that talks about "Dream Managers." For example, janitorial work is a service business, but when the owners of a certain janitorial company made working there about helping employees make their dreams come true, the entire staff, as well as their clients, benefited. John also talks about clarity of purpose and notes, "culture is simply clarity amplified and acted on."
I especially like the quote in the book about leads and responding to RFPs. John says the problem with responding to RFPs is that it makes every business look the same." His recommendation is to "choose your clients, and not the other way around." He adds: "until you know whom you'd choose to work with, it's far too easy to take on customers who drag you away from the work you deserve doing." That is the absolute truth!
Topics in this section also include discussions about different kinds of behaviors (how to sell to movers, educators AND skeptics); how to manage the monitoring of triggers; developing customer personas; building a reputation—including some tools for a competitive research plan; how to create content; and how teaching can enhance selling.
John's take on the sales funnel (seven steps) is called the "Marketing Hourglass." While there are certainly some good points in this section, I have to admit I take exception to his stance on two particular issues: 1) that prospects must be able to find content on their own time; 2) that the research of a prospect cannot be done "outbound." When such an approach (which I refer to as "inbounditis") sets into companies, sales teams find it even more difficult to make quota. There is a difference between "cold calling" and proactive and intelligent outbound, and this fact can be lost in the "Marketing Hourglass" section of the book.
Practices of the New Sales Guide
While part one is primarily about strategy, part two is all about tactics—and it is loaded with them. At the highest level, part two posits, "It's no longer enough to be a part of the brand; today's sales person needs to take charge of his or her own platform."
Other tactics detailed in this section include:
"Create a platform"
"Become an authority"
"Mine networks"
"Build your Sales Hourglass"
"Finish the sale"
Part two also covers blogging, podcasting, list building, and partnering; the development of landing pages, content, and social networks; and ways to amplify content. Readers who follow the author's advice on these pages will absolutely find improved results.
The World of the New Sales Coach
If you think of the sales professional's job as that of a sales guide, the sales manager essentially becomes the sales coach. Themes of this section include inclusiveness, integration, how to view sales, and blurring the lines between lead conversion and customer experience.
Some nuggets:
The coach has to use a sales system, but the system needs to adapt to the special needs of each player. An "A" player can either build or tear down a team.
Help your team become leaders in their chosen marketplace.
Participate and Cooperate. Cooperation is a lot more fruitful than competition; therefore, look for ways to collaborate, educate, and even help other members of your industry for the greater good.
Bridge the gap between marketing and sales by involving your counter-part in the process of customer engagement. You will benefit with better content and support.
The best sales people are neither extroverts nor introverts. They are

ambiverts

—equal

parts extrovert and

introvert. (Some

very interesting studies and approaches to hiring are covered here.)
John concludes the book pointing out that the phrase, "always be closing" has been replaced by "always be connecting." In other words, the new sales guide must listen, educate, share, nurture, curate, observe, and deconstruct—as these are now "the new pillars of value delivery in the new world of selling."
Even if you are currently using a sales methodology, I highly recommend that you buy and read this book. Too often, I find that new books don't necessarily contain new AND insightful information. But rest assured that in this one there is A LOT. Duct Tape Selling: Think Like a Marketer, Sell Like a Superstar is definitely worth reading and sharing with your flock. Check it out.
By Dan McDade
Topics: B2B Sales