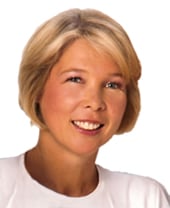 NOTE: This article was published in 2011, and since then, some things have changed. First, CenterBeam joined forces with EarthLink in 2013. Second, Karen Hayward now is the CMO at Chief Outsiders. Despite all this, we think this article has a great concept behind it. We think you'll agree!
There are many factors to consider when deciding whether to do outbound lead generation in-house or to partner with a lead generation services firm. I thought it would be interesting to share the perspective of a chief marketing officer who has experience on both sides of the question.
Karen Hayward was Executive Vice President and Chief Marketing Officer of CenterBeam, an IT managed service provider. In 2010, Karen was one of CRN's "Power 100: The Most Powerful Women of the Channel," and CenterBeam was recognized in 2009 as one of five finalists for the Marketing Department of the Year award by the American Business Awards.
We have collaborated with Karen and CenterBeam on lead qualification, lead generation and lead nurturing programs, and I had an opportunity to ask her for her take on the in-house vs. outsource question, as well as her take on success factors, challenges and benefits associated with outsourcing.
What led you to consider outsourcing lead generation?
Our company, CenterBeam, is an IT managed service provider, and our on-demand format delivers an efficient and cost effective alternative to internally building out and managing IT.
We viewed lead generation in a similar way: instead of funding and creating an internal group, we wanted to partner with a proven provider and leverage its expertise, processes and infrastructure for delivering quality leads.
As a CMO, I always ask myself, what value I would really bring to managing this process in-house versus having on-demand access to expertise, operational excellence and data analysis that comes as part of a partner's complete solution.
What for you were the critical success factors you weighed in outsourcing lead generation?
With rapid developments in technologies and automation along with rising expectations of sales people, successful lead generation is a significantly more complicated and complex process.
It's no longer enough for a provider to be experienced in a single area like teleprospecting or telesales. Best-practice expertise in all areas—market identification, database management, process management, recruiting and staffing, training, program management, and data analysis and content—is now the key to a program's success.
Could you share an example of market identification activity?
We began with a target market of 80,000 companies, and we wanted to fine tune our ideal prospect characteristics to focus on higher-value opportunities more likely to close.
We leveraged our provider's expertise in market analysis, market segmentation and list testing to pinpoint specific vertical segments and identify additional desirable qualifiers inside those verticals.
This precise identification of target prospects has resulted in us now focusing on fewer than 20,000 companies, and it has significantly increased closed deal size.
What have been your experiences around lead quality and lead quantity?
Beware ... make sure you get what you pay for and pay for what you get! Watch out for pay-for-lead approaches. It may seem like a good deal, but remember, the firm will be incented to provide a quantity of leads—quality will take the back seat.
Recognize the value of a long-term lead nurturing approach. Ask your potential partner's clients what percent of closed deals in the last period were based on outsourced leads. Number of leads is not meaningful—closed deals are, and worth a premium.
What should firms considering outsourcing look for in the professionals who will be calling on their behalf?
While many lead generation service providers claim that they can call the CXO level, it's important to check them out.
While they may call them, are they able to engage in a successful dialogue? Do they use a script, or are they truly able to have a 20-30 minute business level conversation that results in an understanding of business priorities that leads to a meaningful next step?
CXOs engage in conversations when they perceive parity in business stature and quickly exit scripted conversations.
What have you found are some of the major benefits of outsourcing lead generation?
Using a partner freed up our time to focus on the more strategic aspects of our marketing efforts and has placed the accountability for day-to-day program management in the hands of a team with the necessary specialized expertise, processes and technology to make it work.
Sales and marketing advisory service SiriusDecisions reported on average 67% of Marketing Qualified Leads become Sales Accepted leads. We saw 91% of our partner's MQLs becoming SALs, and we were getting a 12:1 return on our marketing investment.
It's a very competitive market and a challenging economy out there, and it's more important than ever to ensure lead generation success. Partnering with an experienced lead generation services provider was the best way for us to close more deals and drive more revenue.
By Dan McDade
Topics: Lead Generation, B2B Marketing, Marketing Strategy