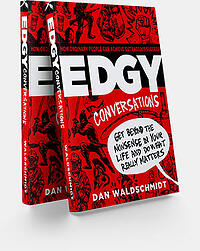 Everything you think you know about success is wrong, says my latest guest on PowerViews, Dan Waldschmidt, author of the new book Edgy Conversations: How Ordinary People Can Achieve Outrageous Success. Dan's firm, Waldschmidt Partners International, solves complex marketing and business strategy problems for savvy companies all over the world.
For his book, Dan researched more than 1,000 high performers in business, sports, politics and other fields, searching for commonalities that set them apart. The inspiration for the book was Dan's own grandfather, a World War II veteran who survived an extraordinary battlefield ordeal. Having overcome extreme obstacles is common among super achievers, Dan said. In our interview, Dan and I also talked about some other key traits that most successful people share.
Below is the link to the entire interview, along with a few salient outtakes:

Four Behaviors for How Ordinary People Achieve Success
Click to start video at this point
—
In his research, Dan didn't look at the success of silver spooners such as Donald Trump or the accomplishments of Ivy League graduates. He looked at ordinary Joes and Sallys, and what he discovered is that they share four commonalities: extreme behavior, discipline, a giving mindset, and an understanding of pain and fear.
Say No to Yourself Before You Say No to Others
Click to start video at this point
—
Discipline is as much about denying as it is about doing, Dan said. Dan found that high achievers were willing to say no to themselves before they were willing to say no to others.
Giving is a Gift and Giving Expects Nothing in Return
Click to start video at this point
—
Many people associate successful business practices with greed, but Dan says giving is what pulls down the barriers between people. What you provide to others in value helps to establish a relationship: it could be as simple as offering someone a free coffee or donut when they don't expect it. Moreover, if you screw something up, you can help correct a situation by immediately thinking about what you can give of yourself. We all go into meetings thinking about what we can get out of them, when we should be focused on what we can give. This helps prove our value to others.
It's Always What It's Not
Click to start video at this point
—
The avoidance of pain is the primary driver in everything you do or don't do, Dan said. That includes both physical and mental pain. Instead of being who we are, we tend to be who we think people want us to be, thinking that this will help us avoid pain. But that's a short-term fix that masks long-term problems.

You can connect with Dan and learn more about Waldschmidt Partners International via the following resources:

Website: www.edgyconversations.com
The next PowerViews will be with James Obermayer of The Sales Lead Management Association.
Stay Tuned.
By Dan McDade
Topics: B2B Marketing, PowerViews