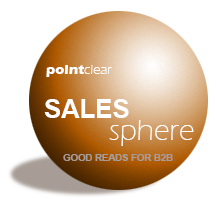 Keeping up to date on the latest innovations and opinions in sales can be time-consuming, especially in the the digital space. Sales Sphere features relevant blog articles from PointClear's online B2B sales circles.

Are You Paying Enough Attention To Your Sales Teams?
Sales teams are expensive, complex and powerful, so they should be made as productive as possible. According to Andris Zoltners, PK Sinha and Sally Lorimer, the authors of Building a Winning Sales Management Team: The Force Behind the Sales Force, sales, "continues to be one of the most poorly understood and under-optimized areas of business." Still, companies such as GE and Novartis have used various techniques to improve sales outcomes, write Zoltners, Sinha and Lorimer. Via Harvard Business Review online/HBR Blog Network
Three Ways CRM Integration Creates Alignment and Drives Sales
Integrating customer relationship management and marketing automation systems can be expensive, complicated and scary, but doing so is necessary for your organization's optimal performance, writes Justin Gray, CEO of LeadMD. A successful integration will provide valuable data, enhance customer retention and help ensure that your sales team is responding to qualified leads in a timely manner. Via Marketo B2B Marketing and Sales Blog
Are You Selling At Every Level?
While focusing on customers' needs is important, companies also should attempt to build a culture that supports the sales organization's efforts. Selling needs to be a focus at all levels of your business, including the street, middle and executive levels. This approach is "easier said than done, but the results can be magic for top-line and bottom-line growth." Via Selling Power Blog
Busting The Personality Myth About Sales People
University of Pennsylvania's researcher Adam Grant says ambiverts tend to be the best sales people, not the clichéd aggressive extroverts. According to research, the middle-of-the-road ambiverts have the ability to listen without seeming overly confident or excited. To the ambivert's advantage, they are assertive and enthusiastic enough to persuade and close. Via BusinessNewsDaily.com
Be Tough. Success Demands Tenacity: Madlibs with Dan Waldschmidt
Energetic Dan Waldscmidt provides his opinions on Funnelholic's MadLibs column. Waldschmidt adlibs The first thing every sales person should do is get the s*** kicked out of them. You need to learn to be tough. Success demands tenacity." Via Funnelholic
PointClear related: Powerviews with Dan Waldschmidt - Changing the Conversation
Do you have a resource from your sphere to share? Let us know in the comment section.
Topics: B2B Sales, Prospect Development, Sales Sphere