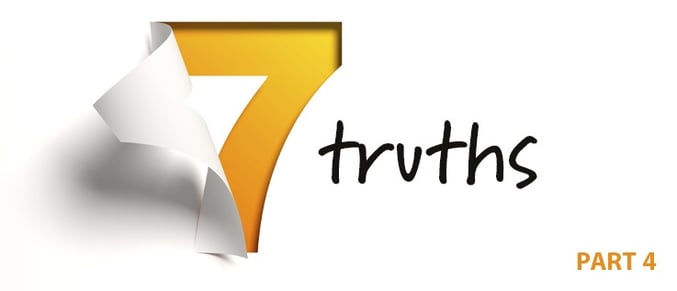 Make marketing accountable for sourcing revenue is the third of 7 Truths about Sales and Marketing that CEOs need to know. This post is part of a series about the CEO's role in eliminating wasted marketing spend and increasing sales results.
In the last blog we discussed the importance of driving revenue from all sources (inbound, nurture, outbound). Today we will discuss what percent of revenue should be driven by marketing and what percent should be driven from sales.
Measuring marketing's contribution to revenue
In a recent blog post SiriusDecisions notes that organizations struggle to measure marketing's contribution to, and influence on, sales pipeline. They recommend that as a first step toward capturing these key performance indicators, clients walk through a model that breaks down typical marketing contribution and mix based on three go-to-market strategies: direct enterprise accounts, inside commercial accounts, and small-and-medium-sized business (SMB)/channel accounts.
Here is how Mark Nadolny, Manager of Benchmarking Analytics at SiriusDecisions breaks it down:
Tier 1: Direct Enterprise Accounts
Organizations targeting large enterprises are already familiar with the potential clients that exist in this saturated space, so it's difficult for marketing to source new leads. Marketing spend as a percentage of revenue is often fairly small, usually less than 5 percent. Marketing typically supports sales by influencing more than 75 percent of all leads and sourcing up to 10 percent of them. The mix should consist mostly of sales enablement, then demand generation, with less focus on awareness.
Tier 2: Inside Commercial Accounts
For organizations focusing on mid-size accounts (which we define as having 101 to 1,000 employees), marketing spend, contribution and mix begin to shift. The percentage of revenue spent on marketing tends to increase to 20 to 30 percentage points in comparison to Tier 1 accounts. Marketing's influence remains relatively high, ranging between 60 and 75 percent of all leads, and marketing sources between 15 and 25 percent of leads. Demand generation is typically the primary activity in the marketing mix, followed by enablement and then awareness.
Tier 3: SMB/Channel Accounts
In this segment, organizations spend 25 to 40 percent of revenue on marketing. Marketing continues to play a strong role in influencing purchasers (50 to 60 percent) and plays a much larger role in sourcing leads (30 to 45 percent) as the lead pool is much larger in this space. Whereas enablement and demand generation are marketing's primary tasks for Tier 1 and 2 accounts, the main focus for SMB/channel accounts tends to be driving awareness, followed by demand generation and then enablement.
This three-tiered approach enables marketing to collaborate more effectively and efficiently with sales in a coordinated effort to push leads through to closed business."
Mark and I agree that marketing needs to be sourcing a larger percentage of the leads driving the revenue required by the organization (perhaps except for "Tier 1: Direct Enterprise Accounts"). Taking ownership for driving leads—at a level commensurate with marketing's investment/cost—is good for the organization, and for marketing.
I've yet to meet a marketing leader who doesn't feel somewhat defensive about their contribution to sales. They note that when budgets need to be cut, marketing is often the first to have to reduce spend, limiting their ability to make an impact. They also cite that their branding, PR and tradeshow activities are (indirectly) driving sales, for which marketing is not getting credit.
The net-net is, when marketing keeps its focus on sourcing leads, using tools and best-practice processes that continually measure results, marketing is able to prove its value to the organization, keep budgets growing and get the credit for revenue contribution that it deserves.
See below for an example of one best practice way to break down sources of revenue and calculate the number of leads needed (including sourcing allocations for marketing and sales) to hit the revenue target: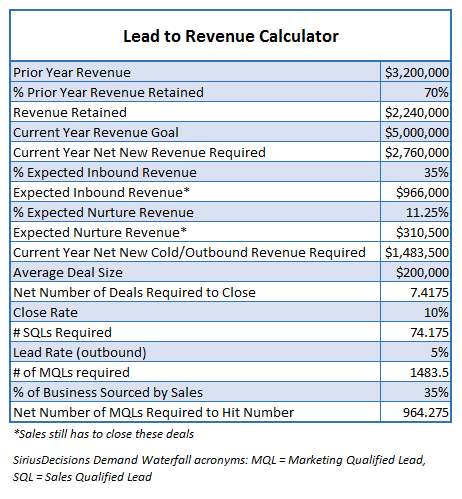 In the above example, 65% of SQL leads should be sourced by marketing—through inbound, nurture and outbound. Approximately 35% need to be sourced by sales.
The assumptions embedded in the example above are industry benchmarks OR based on our actual client experience in the last 20 plus years. For example, we estimate that inbound marketing efforts will produce about 35% of the gap revenue. Some of the other assumptions are estimates from SiriusDecisions Demand Waterfall metrics on the "Average Company" vs. their best-in-class averages. While many industries estimate that sales reps source 60% of their own business, the reality is that each company should provide much more marketing support. Hence the 35% used in this example.
Note that you can add zeroes and change percentages to calculate the number of leads needed to make your number by clicking here.
What percent of your organization's leads are sourced by marketing? How do you measure marketing's accountability?
In the next blog in this series we will show you how to document and then optimize cost per: Lead, Sales Accepted Lead, Sales Qualified Lead and Closed Deal
Topics: B2B Marketing, Marketing & Sales Alignment, B2B Sales