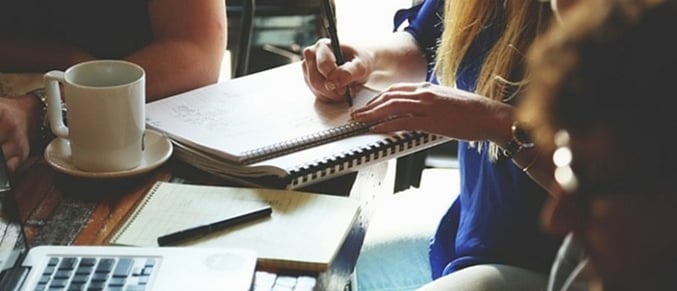 Want to join the best sales and marketing enablement team around? Do you like Georgia, more specifically, the Atlanta area? Are you looking for ways to learn from the one of the best leadership teams while also enjoying working for a smaller-mid sized business? Then you're cordially invited to apply to work at PointClear!
Located north of Atlanta, we have been helping clients bridge the gap between marketing and sales for close to two decades. Not only are we industry leaders, we have a history of helping out in our community by fundraising and volunteering at local organizations. Our company leadership is consistenly awarded for superb management, and our people truly enjoy working here. Read on to see if PointClear is the right company for you.
Industry Leaders Since 1997
It all started in 1997. President, CEO, and Founder, Dan McDade, created one of the first (and one of the best) teleprospecting companies. The goal was to help companies identify high quality leads, and not clog their sales pipelines with unqualified and low quality leads. By generating 100% qualified leads, we were able to help our clients close more deals. Our company has grown significantly over the last two decades, and many of our executives have been nominated and recognized for leadership awards, year after year. We know how to deliver leads that the sales team trusts.
Active in Our Community
Our company isn't only about excellent teleprospecting for our clients. We are very active in our North Atlanta community and regularly support local organizations. We have worked and currently work with the following organizations:
Great Leadership
Our leadership team is superb. Not only are they nominated for prestigious awards as mentioned above; they have the proper skill sets and experience to drive the company to new heights. Furthermore, Dan McDade has written the book The Truth About Leads, a book covering the secrets that will help you make greater and more profitable wins for your firm.
It's Easy to Apply
With our new and improved website you can apply directly on the site. Simply travel to our careers page to see what positions are available, and upload your resume. Also, you can upload a voice recording to add more reasons to why you'd be a good fit. Lastly, sample resumes are a great tool for referencing what it takes to work in a certain position. This sample resume of an employee will be a great tool for those thinking of joining our team.
Learn From The Best
As a new PointClear team member, you will have the opportunity to learn from the best. The PointClear Teleprospecting Certification Program brings new staff up to speed and it sharpens the skills of seasoned employees. Based on a combination of best practices and personal experience, our tried and true employee onboarding process has proven to improve the skills of even the most seasoned pros. Our clients continue to work with us because of our highly trained staff.
Didn't see anything that made you want to work for us? Maybe these other details will persuade you:
Located an hour outside Atlanta in Johns Creek, GA and is located close to many gyms, restaurants, and shopping centers

Extensive training program

Smaller company mindset

Medical, dental, and vision coverage

and

other great employee benefits
We encourage all nice, smart, curious, hardworking, and ethical applicants to apply. We are very proud of our company, and the culture that goes along with it. If you're interested in joining an innovative and successful company, PointClear could give you the meaningful career you've been looking for.
Topics: Announcements