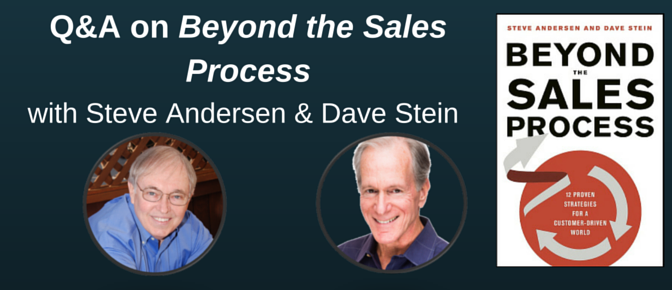 A remarkable new book is changing the way that B2B sales professionals think about, approach, and serve their customers. Co-authored by sales luminaries Steve Andersen and Dave Stein, Beyond the Sales Process: 12 Proven Strategies for a Customer Driven-World upends traditional sales training conventions and provides a clear, logical roadmap for establishing productive long-term customer relationships and for creating real value in a business environment that has undergone unprecedented change. The co-authors recently shared some insights with me about their goals for the book and its readers.
Q. How did the two of you decide to collaborate on this book?
A. We met and worked together at a software company many years ago, and our paths through the continuously evolving world of B2B sales and sales performance have crossed many times. Even as our careers followed different trajectories—Steve is the founder and president of Performance Methods Inc. (PMI), an industry-leading sales best practices consulting firm, and Dave is the founder of the independent advisory firm ES Research Group, Inc. (ESR), author of How Winners Sell, and a prominent social media force—we made a conscious effort to stay in touch. Our mutual regard for each other's ethics and expertise became a genuine friendship that has endured, even thru two intensive years of co-authorship.
It's been clear throughout the relationship that we have many perspectives in common, namely that sales must evolve to accommodate the changes that have been broadly adopted by B2B customers (especially in the wake of the 2008 recession) and that the customer—not the features and benefits of the supplier's products and services—should take center stage in the hearts and minds of salespeople and those who lead them.
When Dave closed the doors of ESR, Steve saw an opportunity and seized it. He proposed we join forces to write a book that revealed what we've learned through our own experiences, and through the wisdom, insights, and concerns of the customers we've consulted with and interviewed over the course of our careers.
Q. How is Beyond the Sales Process different from traditional sales books?
A. Unlike many sales books that lay out a specific methodology or tout the success story of a specific individual's meteoric rise to greatness, Beyond the Sales Process provides a holistic approach that any reader can adapt and apply to meet the needs of their unique customers and circumstances, giving them the ability to create real value for their customers. We don't offer tips, tricks, shortcuts, or promises that are simply too good to be true. Instead, we tell our readers what they need to do, share information on how to do it, and back up our assertions with examples from industry-leading companies that use this approach with their own customers. More specifically, this book is different because:
We look at the customer relationship before and after the sale, not just during. Traditional sales books tend to focus on that very limited period of time when a customer is in the process of buying. We talk about how to build credibility, how to earn trust, and how to engage with a customer before there's an RFP or a deal on the table. We also discuss the importance of growing the relationship after the sale, delivering on promises, measuring the value provided, and adapting to meet the customer's evolving needs.
The book includes in-depth case studies that delve into the experiences that industry-leading companies have with their own customers. The featured companies not only welcomed the opportunity to discuss how they used the approach we describe in the book to build productive relationships and create value, they invited their own customers to participate and share their experiences.
Many sales books expound on all the reasons reader should be doing what the author says they should, but can be miserly with details of "how" to get it done. Beyond the Sales Process leaves little to chance; readers will not only learn the rationale behind the Engage/Win/Grow approach, but also how to put each strategy to use. At the end of every chapter, we have included a set of diagnostic questions that readers can use to drill down on what they're doing right, where they could use improvement, and how to move forward with greater effectiveness.
Q. What are the three most important takeaways for salespeople, account managers, and sales leaders who read this book?
A. In no particular order, we would like our readers to understand and embrace these three ideas:
If you haven't engaged the customer before there's a deal on the table, you are making a fatal mistake. And you should expect that one of your competitors already has your customer's ear and is influencing their buying decisions.
Relationships matter. If you don't want to be commoditized, or pressured into discounting to win the sale, you need to help your customer understand the unique differentiable value that your organization can offer. Or be prepared to win only if you're the low-cost provider and you don't care if it's a one-shot deal. Without an authentic relationship, the task of helping your customer understand your unique differentiable value becomes much more challenging.
Deliver the value you promised to the customer and then leverage your past proven value for the next sale. When you stick around to evaluate, adapt, and grow with your customer after the sale, it becomes very difficult for a competitor to take the account away.
(Dave and Steve invite you to visit http://BeyondTheSalesProcess.com for more information.)
Topics: Sales Process, B2B Sales