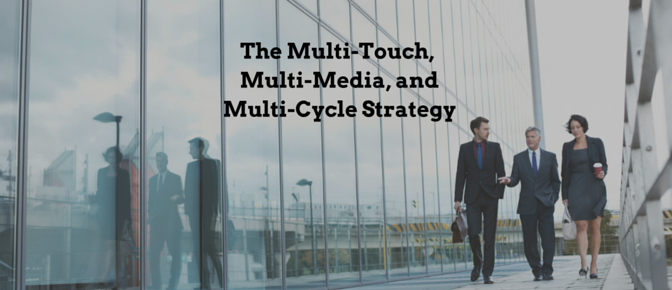 I field a lot of questions about what I call our multi-touch, multi-media, and multi-cycle strategy. Many of the questions I field have to do with number of touches and the types of touches we recommend to effectively nurture a prospect.
Nurturing Prospects is Not Easy, Otherwise Everyone Would Do It
As background, we delivered a report to a client this month that, among other statistics, showed that it takes 9.82 touches to engage with a prospect. The result of this process is what we call a disposition: our term for completing contact with a decision maker or company. The lead generation and qualification work we do for this client yields slightly less than a 5% lead rate. Our leads are equivalent to what SiriusDecisions calls a Level 4 or 5 lead—in other words, pretty darn qualified.
To disposition 1,000 companies for this client, we would need to invest 9,820 touches and that effort would yield about 50 leads. If you are a "cold calling is dead, inbound is king – long live inbound" fanatic—you can stop reading now and go back to the smaller, low-level so-called leads your current inbound strategies are probably driving.
To put these numbers into perspective, in 2016 we will disposition roughly 70,000 companies on behalf of our clients. These dispositions will drive 1,547 leads, 1,252 pipeline accounts (scheduled next step that consistently results in a very high lead rate) and 6,158 nurture accounts (qualified companies where the timing is not right for a sales follow-up – but this filtered list yields a high lead rate on future touches).
What Is a Multi-Touch Cycle?
As an example of a touch cycle, an extreme one, a couple of years ago we provided our services to a global business process outsourcing company that asked us to reach the CFO at the top fifty utilities in the USA. We used a combination of telephone dials, voicemails, emails and one direct mail package (actually a magazine article about one of our client's clients) over the course of one quarter (ninety days or sixty work days). The program was an unqualified success. That success did not even include one "win" that I will call an outlier. The outlier result was so extraordinary that I think you deserve to know about it. On the forty-second touch, the CFO of the fourth largest utility called us back and said: "Don't stop calling me. You are my conscience. I have wanted to talk to you but I have been extremely busy. Please call me back two weeks from Tuesday at 10:00 AM and I will take that call." During that call we found out that this executive had saved two emails, one voicemail and the magazine we had mailed to him. In less than six months after we turned over this lead it closed for $1 Billion – yes, "billion"—with a "b."
Not every touch cycle is (or can cost effectively be) that long. Here is a more typical touch cycle: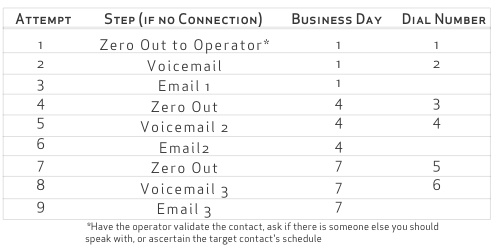 We dial at different times of the day (which is why we might dial twice or more in one day, but zero out and only leave one voicemail on any given day) and our voicemails and emails are educational in nature and build on one another. They are not "salesy."
Know When to Move On
We find that each touch cycle reaches a point of diminishing return and that after four to six touch cycles the company or contact has been exhausted. We also find that senior executives are 2.5 times more responsive to quality multi-touch campaigns than are junior executives.
You should experiment with touch cycles and media mix for your solution or service. However, persistence and a mix of media pays off. A mix of proactive, strategic outbound in addition to taking advantage of reactive inbound ensures that you are at the table in strategic deals rather than becoming column fodder in a deal already won by a competitor - or missing out on the deal completely.
Topics: Lead Nurturing, Sales Training, Lead Qualification