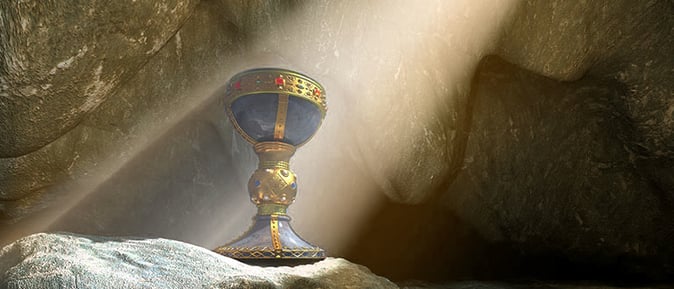 As Account-Based Marketing continues to rise in popularity among B2B companies, I decided to pick the brains of fellow industry experts and get their input on the matter. This is the question I posed:
According to a report by SiriusDecisions, 2015 State of Account-Based Marketing (ABM), more than 60 percent of companies plan to invest in technology for ABM to better align sales and marketing over the next twelve months. Is ABM the Holy Grail for lead generation or just another black box solution destined to cost a lot of money, distract marketing and end up getting more bad leads to sales faster than ever before?
There was so much great feedback I've divided the responses into a five-part blog series. (Click here to read Part 1.)
Today, in part 2, we hear from Adam New-Waterson, Chief Marketing Officer at LeanData.
I have to laugh a bit at the question. "Is Account-Based Marketing the Holy Grail for lead generation or a black box solution?" Well, it's neither. Account-Based Marketing is a philosophy, not a product. If you are a devout follower of ABM, your concern isn't with lead generation at all. It's with demand. However ABM is the Holy Grail for those doing it right.
Lead generation is at its core a numbers game. You are trying to get the most, qualified leads, for the cheapest price. It supposes that your core objective is to continually reach a broader and broader audience. To do that you have to generate a lot of leads to get there. This is why so many people spend so much time analyzing waterfalls to determine how many net new have to go in, in order to hit their overall goals. "Buy more lists! Run CPL campaigns! We need more in the top of the funnel!"
Account-Based Marketing turns that philosophy on its head. Instead of flooding the top, it seeks a different origin. First you map out your potential accounts, pairing those down to a small subset of highly-targeted accounts. Look for accounts that are most likely to buy now—those with the greatest potential revenue. Don't target too many accounts or you'll lose focus.
Once you know which companies you're targeting you need to map out all of the potential influencers of your deal. Maybe you traditionally sell to one line of business. As deal sizes get larger you'll need to start mapping out a larger and larger set of buyer personas. Think about the CFO, procurement, and legal, and how will they each need to be involved to get your deal through buying consensus.
Only after you fully understand all of the people who have a seat at your buying table can you move on to the phase that could be considered lead generation. You need to know, for each of your target accounts, who are the specific people that fit your buyer personas?
From here Account-Based Marketing is about aligning with outbound sales to generate the largest revenue. Marketing provides air cover by nurturing and educating their known universe of prospects. They produce the content and materials that help lure contacts at the company into deeper conversations with sales. While sales is effectively utilizing the moments of attention that marketing is engendering with their target prospects.
This is an all-in approach where highest-performing teams start to look like a revenue department, rather than a sales and a marketing department. When you have large ASPs, you can create tailored content for specific accounts that are even more effective than broad-based content. Want to hunt "whales"? You'll need to develop content that specifically speaks to the needs and challenges of companies on a one-to-one basis. Rather than having an SDR churning through volumes of purchased lists, why not have them focus breaking into the most important accounts.
Have a coordinated effort that involves both marketing and sales. With predictable cadences, your sales team can stay on message while pursuing the right leads when they are ready. Don't forget all of the additional channels beyond email, mobile, and social to communicate with your prospects. Direct mail can be strikingly effective here if the perceived value is right. In person events are fine as giant trade shows with a big booth space. But even better are smaller intimate places, like Executive Dinners and Networking Events to form relationships with your buyers.
And Account-Based Marketing doesn't just toss sales the ball and tell them which way to run. It's a combined effort all the way over the finish line, and on into customer up and cross-sell, along with customer education and renewal. Marketing is the backbone of high-performing companies, not an after-thought for only branding. Finally ABM ends with understanding your past results and using them to inform your future actions in a data-driven manner.
So is Account-Based Marketing a black box solution? Certainly not, because it isn't a solution, it's a philosophy, a strategic approach. Which individual pieces of technology you put together to create your ABM stack, and whether or not those are black box solutions, has no bearing on the strategy of ABM. While individual technologies will attempt and fail, the overall strategy of understanding your prospects at the account level won't distract marketing and cost a lot of money. It will keep marketing focused on the right goals and actually save money because you're not wasting money on spray and pray tactics.
No, Account-Based Marketing is not the Holy Grail for lead generation, but it could lead to revenue Nirvana. And ABM isn't a black box solution. It's a new way of working, a pivot to higher revenue. It uses many of the traditional tools that marketers have used but with greater skill and precision. ABM gets great results because it slows things down to spend the time required to get the highest revenue.
In less than 1,000 words, Adam covers so much territory I found myself needing to read this several times through—and as it sank in I found my head shaking up and down in agreement. The only exception is regarding his statement about why lead generation has become a numbers game: "[Companies] are trying to get the most, qualified leads, for the cheapest price."
Lead generation has become a numbers game in many if not most companies because marketing has been forced (by many silos in corporations) to default to a cost-per-lead methodology in which sales complains about lead quality and marketing complains that sales does not effectively follow-up on leads. An ABM "philosophy" or "strategic approach" will fail if companies simply automate bad processes, and I am sure Adam would agree with that.
Adam does a great job of covering ABM without jumping on the IP-based marketing bandwagon. Great job and thank you!
Coming up next in part 3 we'll hear from the Excecutive Director of the Sales Lead Management Association, James Obermayer.

Don't miss it!


Topics: Account-Based Marketing