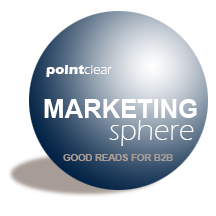 Online content in the sales and marketing industries is constantly changing. The Marketing Sphere represents recent good reads from our digital circles about B2B marketing selected by PointClear colleagues.


B2B Trade Show Marketing Circa 2013: Everything is the Same, Everything is Different
Christopher Ryan shares his observations during a recent technology conference. He noted that booths look the same with little differentiation and are staffed with untrained talent. As usual, giveaways and demos are used to get attention of attendees. Ryan also observed that new attendees aren't just tire-kickers and prospects are armed with more knowledge than ever—asking tough questions for which the best B2B marketers must be prepared. Via GreatB2BMarketing
5 Buyer Behaviors Reshaping B2B Marketing
According to Buyerology founder and principal, Tony Zambito, buyer constantly changes; however, B2B marketers should monitor important trends. Buyers have embraced collaboration with the advent of social and digital technologies, so marketers must consider internal as well as external members of collaborative networks which impact buying desisions. Via iMedia Connection
CMO Council study: Content has significant impact on buying process
According to a study from the Chief Marketing Officer Council, 9 out of 10 B2B buyers ranked online content as having at least a moderate effect on their choice of vendors. Half of those buyers trust professional associations, online communities and industry organizations as important sources for content. The most sought after content are research reports, white papers, case studies and product reviews. Via BtoBMagazine
Only 16 Percent of B2B Consumers Prefer Live Webinars
Live webinars have been a staple marketing tactic for B2B since the decline in trade show marketing. Matthew Cleary cites his research as revealing that most B2B buyers prefer recorded webinars. He suggests using this trend for ongoing long-term lead generation. A teaser video followed by a gated series offer that launches a marketing automation solution can result in building quality leads. Via ClickZ
Do you have a resource from your sphere to share? Let us know in the comment section.
Topics: Lead Generation, B2B Marketing, Inbound Marketing