The decision to add "tele" to your arsenal will soon be easy. If you don't, you're dead. What is called "Inside Sales", "Sales Support", "Telesales" and dozens of other names is growing 15x faster than field sales—in fact, my colleague, Jonathan Farrington, published a blog stating that within three years 80 – 90% of all B2B transactions will be done online—most with some form of sales support but not field sales.
Given that I run one of the many lead generation companies it will not surprise you to learn that I believe a 3rd party focused on response management, lead generation and qualification and lead nurturing is capable of doing a much better job of those services than you are likely to find inside most companies. Some of the reasons for this are: capacity, consistency, attrition, onboarding, peak staffing (such as to build pipeline for new reps…) but that is not what this article is about.
This article is about how to select a partner once you decide to go in that direction. The word "partner" is critical. Are you looking for a vendor or a partner? Your answer should be that you're looking for a partner. So many so-called lead generation companies are incapable of delivering work that elevates them to the position of partner (because of this, I am fond of saying, "we don't get invited to the company Christmas party—but the ad agency does…"). However, if you look closely at each element on the list below, I believe you will be able to tell which companies are likely to be true partners and which will end up being vendors.
Here are some truths you should know about selecting a partner among lead generation companies:
Virtually 100% of marketing qualified leads should become sales accepted leads. We have clients that buy leads from other sources only to find out that one out of a hundred is actually qualified. On paper, a $25 lead looks like a great deal. When you realize that you're actually paying $2,500 per

fully qualified

lead you begin to understand why an exclusive focus on "inbound" leads at the expense of proactive, more strategic "outbound leads" is a huge mistake. Why buy leads that are not going to be accepted by sales? For our average client, a proactive, strategic, outbound lead (that will be 100% sales accepted) costs about $1,250. That is half of what many companies pay—though they don't know it because they don't do the math.
Students, prisoners (yes, there's a company out there that does this), appointment setters and offshore call center staff should not be contacting your target market. These groups are incapable of having meaningful conversations with C-Level executives about strategic business initiatives that lead to high quality opportunities and become sales accepted and qualified. Find out about the average age, education and experience of your potential partner's staff. For example, our staff averages 42.7 years of age, all with four-year college degrees and the average tenure is 4.7 years.
Companies that do a good job partnering with their clients will do a good job partnering with you. How long have their clients been with them? For example, in 2012 91% of our revenue was from existing clients—and we will grow about 20% this year. Some examples (many client agreements restrict us from publishing that we work with them):

CenterBeam—since 2002
One of the world's largest software companies—since 2002
D&B—since 2003
Large medical device manufacturer—since 2005
Global healthcare software and services company—since 2007
Large call center and security software company—since 2009
Large, strategic waste services company—since 2010
Large, regional energy company—telesales since 2010
Another very large software and services company—since 2010
Another global healthcare software and services company—since 2010…

You should be allowed to speak with every staff member of your partner, not be closeted in a conference room while selected employees are brought to you for a meeting. Walk around. Ask multiple staff members what they are working on, why they like their job.
Each dial, voicemail, email and other "touch" should lead to an outcome and you should own all outcomes. Many approaches used today place no value on outcomes other than "leads". The following outcomes (followed by 2012 average percentage across all clients) are important and as a client you should own them:

Lead (lead definition specific to client and signed off on by all parties—4%)
Pipeline (specific next step for your partner—4%)
Nurture (no specific next step, but nurturing qualified prospects and gaining actionable market intelligence through the qualification process are extremely valuable outcomes missed by many if not most companies—18%)
Disqualified (21%)
Not Responsive (to be re-segmented and touched on a later cycle—AN IMPORTANT AND VALUABLE GROUP—balance).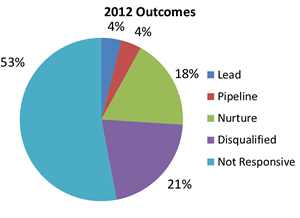 Like most companies, lead generation companies are hardly created equal. I hope this helps you select a true partner as this will be an important element of future success—perhaps more important than any other decision you might make.
By Dan McDade
Topics: Lead Generation, Prospect Development