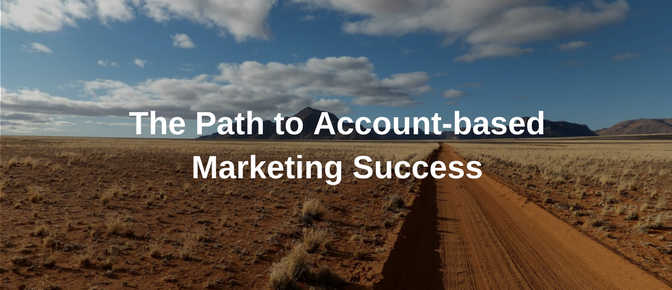 ABM drives bigger, better deals. Most marketing and sales folks I talk to agree … in theory. Many are still trying to figure out how to put ABM principles in place.
If you fall into this category, and are looking for actionable how-tos, take a look at the account-based marketing primer just published and available now on SlideShare.
The deck outlines the 5 steps you need to apply the super-targeted approach to reaching out to prospects that is ABM:
Identify Targets and Target Roles. To avoid a scattershot approach to marketing (the antithesis of ABM) figure out the ideal prospect/client profile. Focus on who needs you the most to avoid wasted effort.
Segment and Stratify. Determine which portion of your market you can reach and close most cost effectively. Zero in on prospects with the most propensity to buy to keep you from incurring marketing/sales costs that don't deliver return.
Use Dynamic Engagement, including Triggers. Map content to audiences of one. Then deliver it via all media (inbound and outbound), across multiple sales cycles, at just the right frequency.
Analyze, Analyze, Analyze. You need full visibility into how many touches it takes to generate a lead, your lead rate, and your cost per lead at every stage in the funnel. You need to measure which leads are rejected and why. And you need to know at what rate your leads progress. Then it's time to continuously improve it all.
Nurture and Upsell to Achieve Advocacy. The goal is not to just close deals, but to create relationships with targets, prospects and clients that last a long time.
This slide presentation also outlines exactly what ABM is—and what it isn't.
| | |
| --- | --- |
| -It is a strategy | -It isn't a technology |
| -It is about all data sources | -It isn't just IP-address based |
| -It is allbound—includes calling and email and more | -It isn't just inbound |
If you're curious about what ABM can do for you, and how to adopt this methodology, you'll find a lot of helpful information here in this SlideShare. Assembled with input from ABM thought leaders, and via first-hand account-based marketing experiences with PointClear clients, this is your go-to source.
Are you using ABM? Exploring its feasibility in your organization? I'd like to hear from you.
5 Steps to Account-based Marketing Success from Dan McDade
Topics: Account-Based Marketing