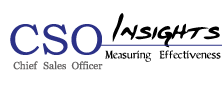 I just finished the survey questions for CSO Insights' 2015 Sales Performance Optimization Study. Now I know that PointClear will be counted as one among the many thousands of companies contributing to overall sales knowledge trends for 2015. The survey itself took about 12 minutes, and since the form allows you to save as you go, I could be interrupted and not have to start over. Easy—and interesting.
Interesting, because each year the results of this kind of study are valuable to me as we position ourselves for success in the lead generation space. This new paper will be delivered late January, and I know I'll refer to it often as we make process decisions and investments for 2015-16. The benchmarks and trends the report highlights will be extremely useful in figuring out what's working and what's not when it comes to technology, internal communication, best practices, social media, and much more. Publications such as Business Week and Fortune have even featured results in the past.
I encourage you to take a few minutes and participate in the latest survey. It's actually helpful to take a step back from everyday business and look at your company from a bird's eye view... such as the question about what your top three challenges will be to meeting your sales objectives for next year. The survey gives you a chance to stop and think, categorize, compare, and ask the tough questions internally.
As a gift for participating, you'll be able to download CSO Insights' 2014 Sales Management Optimization Key Trends Analysis for free immediately (usually $425)... plus, you'll receive the new study for free when it comes out late January 2015!
In the meantime, check out another CSO Insights study that PointClear is proud to sponsor. This one is called the 2014 Lead Management and Social Engagement Study. You can get it for free right here.
Thank you to CSO Insights for their consistent, pertinent and intelligent information that has been helping to shape our industry for over 20 years.
Enjoy,
Dan
Topics: B2B Sales