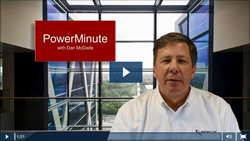 PowerMinute: 60 Second Learnings To Help You Sell More
Need up-to-the-minute info on the importance of lead definition?
Appreciate a reminder of the impact of the human voice in successful selling?
Want a quick tip to help boost marketing ROI—and sell more too?



For 60-second learnings on these and other hot sales lead management issues, tune to the newly introduced PowerMinute videos.