James Obermayer, Executive Director and CEO of the Sales Lead Management Association and President of Sales Leakage Consulting is a regular guest blogger with ViewPoint.
Andy Rooney, probably the best known commentator of his time, who at 92 years passed too soon on November 4th, said, "I've learned ... that opportunities are never lost; someone will take the ones you miss." How did Andy know so much about sales, marketing and sales leads?
I think what Andy meant for us is that if your salespeople don't follow-up on a sales inquiry (not to mention qualified leads), the opportunity will default to your competitor who does follow-up. You lose a prospect, a customer and the sale and your competitor wins. Fortunately, follow-up activities can begin (and even sometimes end) with marketing automation programs. But the majority of the opportunities, especially in B2B still need a salesperson to show up to get the business.
Marketing spends intellectual capital and the company's treasure to find prospects. Yet research says that 75-90% of the opportunities for the majority of companies are lost and we all know why. Marketing departments complain about no follow-up or feedback. They whine about salespeople and their habits and nevertheless marketing often fails to provide the leadership which requires a marketing automation program and a good relationship with sales and sales management.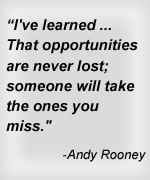 Now I've done it. I'm giving away the secret.
The best marketers count on their competitive counterparts to install a CRM system without rules or discipline, skip a marketing automation process and have no relationship with their sales counterparts. It is these failures which allow those with a CRM that has rules and discipline, a marketing automation system to create an on-going conversation and sales and marketing working as a team that beats the crap out of their competitors.
The formula for winning is easy. Just don't pass up an opportunity when it presents itself.
It's amazing how Andy hit the mark for us and so many others. We'll miss you Andy, but your writing, questions and grumblings brightened our days. And for those who make the effort his many books read as fresh as when he wrote them. He was a master of universal truths. And all he wanted to be known as is a Writer. Maybe with a capital W in his case.
Topics: B2B Sales, Sales Leads, Guest Blogs